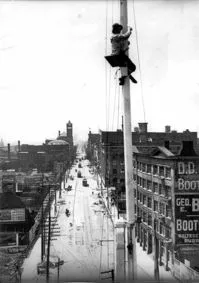 You only thought the holidays were over. Well, Unreal has news for you: Today is
Run It Up the Flagpole and See If Anybody Salutes It Day
.
What is that, you ask? Unreal, selflessly dedicated to providing answers to all the idiotic questions you never knew you had, is on the case.
"Run it up the flagpole and see if anybody salutes" is an
idiotic and cliched way
of saying "Let's test our idea and see if anybody likes it."
It was once used in the
business world
with the same frequency that "outside the box" and "paradigm shift" are used today.
Though Unreal is an intrepid researcher, known to spend entire minutes on Google, we were unable to discover how an antiquated business cliche achieved the status of full-blown holiday. But is that really important? Do we care how January 1 became an occasion for hangovers and football? No, of course not! What is important is how we celebrate.
And so today is your chance to try out your craziest ideas, your wildest speculations, even your most insane outfits. Try something new! (It's a new year, after all.)
Giftypedia
suggests you celebrate this day by bestowing salon gift cards and journals upon your loved ones in order to encourage experiment in deed and thought. No word on whether this day grants you special impunity from ridicule, but hey, we've all been acting ridiculous for a full month now (more or less), so what's another day?
Though Unreal fully endorses experimentation in all forms, particularly where new forms of alcohol are concerned, we must confess that we are far more excited about tomorrow's
special
holiday
: the
Festival of Sleep
.
-
Unreal