The U.S. Attorney's Office has charged two
St. Louis Metropolitan Police Department
officers with stealing drug proceeds and selling marijuana, among other crimes. The ten-count indictment was unsealed today.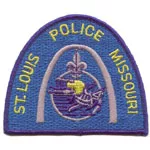 The officers,
Bobby Lee Garrett
and
Vincent Carr
, were partners and detectives in the Crime Suppression Unit. That was the elite 50-member unit formed in 2007 by ex-chief
Joe Mokwa
. Officers assigned to the unit mostly work in plain clothes and unmarked cars, focusing on so-called ''hot spots'' of crime.
The indictment alleges that Garrett and Carr sold dope. The indictment also alleges that Garrett pocketed more than $32,000 in alleged drug proceeds. The charges say Carr knew that Garrett had taken some $28,000 of those alleged proceeds.
The rest of the story and a pdf file of the indictment is after the jump.


Pages four through seven of the indictment yield clues as to how the officers' alleged conduct may have come to the attention of federal authorities.
According to the indictment, Garrett pocketed most of the cash during a June 6, 2008, search of a house at 1475 Arlington Avenue, in the Hamilton Heights neighborhood.
The indictment states that instead of arresting the suspect - identified as ''J.S.'' - to whom the alleged drug proceeds belonged, the police officers arrested the homeowner. He is identified by the initials ''C.C.'' (City of St. Louis real estate records show that the owner of the house in question is Calvin Cooper.)
The indictment goes on to say that Carr asked Circuit Attorney Jennifer Joyce's office not to file charges against ''C.C.''
-
Kristen Hinman