Add Dan Isom to the rolls of public-officials-who-blog.
The new chief of the St. Louis Metropolitan Police Department launched his blog on October 6, the day, as he puts it, that he landed his dream job.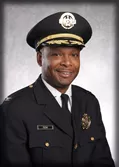 He's posted sporadically since then: doling out congratulations to promoted officers and extending condolences to the family of a murdered University City police officer.
And this week, Isom put up the weightiest piece so far. It's a response to Alderman Quincy Troupe's
call to arms
. The title of Isom's latest blog entry: "The Solution is Not More Guns."
Erica Van Ross, the department's spokeswoman, says the chief will take advantage of the opportunity to speak directly to the people when controversial issues like Troupe's initiative arise.
"He has a huge vison for the department and that means he doesn't have time to always sit down with every media reporter," she says. Isom also wants to use the blog to cover topics that don't get picked up from standard press releases, and, according to Van Ross, "whatever else may be on his mind."
"I know he'd like for [his posting] to be very regular, but I think he hopes people understand that he is a very busy guy. He'll do it as often as he can."
Photo: www.slpmd.org