The NCAA announced this morning the cities that will host the Final Four from 2012 to 2016, and St. Louis isn't one of them.
From the press release:
The committee received bid proposals from 10 cities – Atlanta, Detroit, Houston, Indianapolis, Minneapolis, New Orleans, North Texas, Phoenix/Glendale, San Antonio and St. Louis, all of which were named finalists.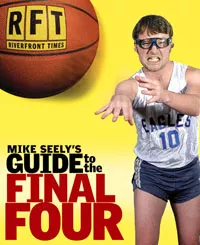 March 30, 2005 RFT insert.
March 30, 2005 RFT insert.
The last time St. Louis hosted the final rounds of the men's college basketball tournament was in 2005, when the University of North Carolina beat the University of Illinois for the national championship. The economic impact -- all that money spent on hotels, hotdogs, T-shirts and shooters on the Landing -- totaled
$71.9 million for St. Louis
, more than half of which stayed in the metro area.
We posted our own guide to that year's tourney.
Although it has been more than three years since that March 30, 2005 publication, the words of Mayor Francis Slay in an "open letter" may still ring true:
"...this March Madness brouhaha might not come around again while I'm Mayor."
While no official reason was given by the NCAA as to why our city was "stiff-armed" in the words of one sportswriter, could be it be that the Edward Jones Dome has a rep for being one of the worst arenas around?