Crowds huddled around the Old Courthouse Saturday afternoon to protest California's recently passed ban on same-sex marriage.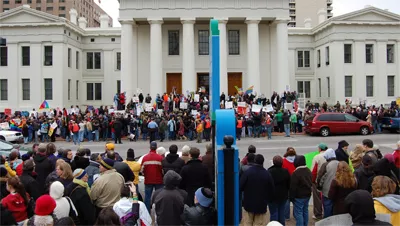 The high temperature was 39 degrees, but when in the middle of a crowd of a couple hundred people, the temperature was warmer, as the audience reacted to the words of more than a dozen orators who spoke with fiery rhetoric, shared personal anecdotes and calls for change. Organizers said about 1,000 were in attendance, while police estimates ranged between 400 and 500.
While Proposition 8, the ballot measure to ban same-sex marriage, only applies to such unions in California, it also means that couples who traveled to the state to be married now have their sacrament in flux.
Christopher Beyer (left) and Mark Woertz (right) traveled to San Francisco recently, to be married on Halloween. The Soulard couple have been together 27 years, but as the vote on Prop 8 approached, they decided to make the trip West to be married. Now their marriage is stuck in legal limbo as Prop 8 is being appealed to the California Supreme Court.
"It was the last Friday that we could get into San Francisco," Beyer said Saturday. He held the California marriage certificate, affixed to a sturdy piece of cardboard in his hands. "There were 800 single-sex marriage licenses issued the day before us (October 30.)"'
Beyer and Woertz had a "commitment ceremony" in 1998 at the 9th Street Abbey -- and they have had their union sanctified in Canada, Colombia, Germany and Spain, Beyer proclaimed.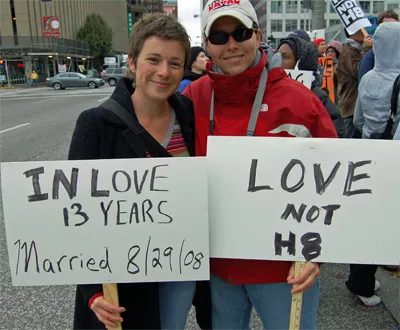 A similar story applies to Lafayette Square residents and thirteen-year couple April Breeden (left) and Crystal Peairs (right.) They traveled to Redwood City, California in August and were married on 29th of the month. Their ceremony was broadcast over the Internet, so friends and family -- including their dogs -- could watch at home.
Breeden called the California vote to ban same-sex marriage devastating.
"It was just such a hopeful time, with the election of Obama, that to have this law happen, it was emotionally devastating.
The couple said that while they had been in love for years, the marriage license -- the "piece of paper" -- still meant something.
"It meant a lot more than I thought it would," Pearis said.
"I think of how many straight weddings, bridal showers, buying gifts for all of them, that I went to, and there was always an element of pain," Breeden said. "Tradition is important to us too."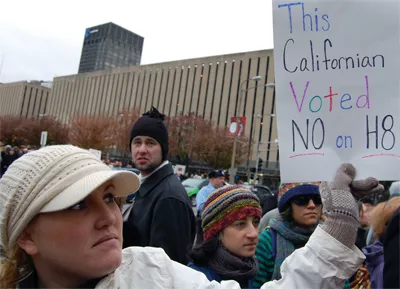 Standing a few feet away from the couple was Angela Jensen (pictured), an eighth-grade English teacher for St. Louis Public Schools. She's been living in Missouri for the past year but was still eligible to vote in California since moving here from there. She held a sign that said, "This Californian Voted No on H8."
"I just think its disgusting that in this day and age when we can elect a black man president we can still vote to ban gay marriage," she said.
The national news reports cited more than 175 similar protests going on throughout the country Saturday.
An amendment to ban same-sex marriage in Missouri passed by a high margin in August 2004, as 79 percent of voters approved the ban.