Update: Coverage and photos of the protest: "Prop 8 Leaves Some Missourians in Marital Limbo"
---
A protest against California's Proposition 8, which bans gay marriage, is set for noon Saturday on the steps of the Old Courthouse.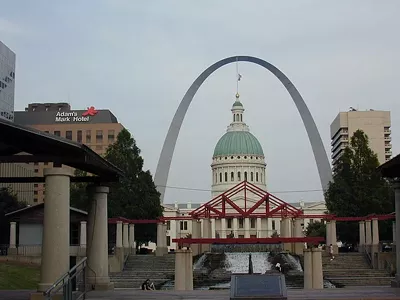 Show Me No Hate has been set up to inform people about the demonstration.
Although the measure -- approved by California voters on election day -- applies only to California, protests are planned across the country.
However, an appeal to the California Supreme Court was filed the day after the election to overturn the measure.
Supporters of gay marriage were left looking for reasons why their cause was defeated in the days after the vote. In Los Angeles, a "blame-game" erupted over Latino and black support for the gay marriage ban, according to a story in LA Weekly.
Since the vote, voices from around the country have risen in support of gay marriage.
"It's horrifying that someone can put a measure on a ballot to take a couple's marriage away," wrote Krist Novoselic, the former Nirvana member and a guest columnist for Seattle Weekly.
In New York, a protest against Prop 8 was held outside a Mormon Temple.
A news release issued about the St. Louis demonstration reads:
"Citizens of St. Louis and the surrounding region will gather together on the steps of the Old Courthouse in a display of protest against the denial of equal marriage rights to all Americans in regards to the recent outcome of Proposition 8 in California.

"Saturday's demonstration is a part of nationwide protests which are aimed at pressuring the California Supreme Court to reaffirm its earlier decision and restore the state's reputation as a beacon for progressives elsewhere."
In line to speak are: Rabbi James Stone Goodman, Congregation Neve Shalom Lewis Reed, President St. Louis City Board of Alderman Karen Aroesty, Anti-Defamation League Bishop Wyatt Greenlee, New Greater Higher Heights UCC Pamela Merritt & A.J. Bockelman, PROMO Steve Houdsworth, community member Jenny Sanchez, community member Rev. Krista Taves, Emerson Unitarian Universalist Chapel Valerie Jackson, MCC of Greater St. Louis Erise Williams, St. Louis Black Pride and the music from Susan Drake & Julie Jennings, Original Women
Missouri voters in August 2004 voted to ban gay marriage by a resounding margin -- 71 percent to 29 percent. Opponents of a ban on gay marriage at the time reasoned the election year brought out a larger number of voters who favored presidential incumbent George Bush.
The RFT will cover the protest, so check back here at the Stlog for news on the rally.
(Artist Shepard Fairey, the mind behind the iconic "Hope" posters created for the the Obama campaign, has shown his support with the above work.)