Last Night: Catfight Combat
What You Missed: Ladies in skimpy outfits beating each other silly inside a giant inflatable ring.
Where: Wild Country, 17 Gateway Drive, Collinsville, Illinois.
Better Than: Watching a Cinemax marathon of women in prison movies.
Ten To Do's For Watching Female Wrestling: 1. Take advantage of the drink specials. It's a $1.50 for a Coors Light. Don't be too picky about your brands.
2. Do get close to the giant, inflatable wrestling ring.
3. Do not get in the ring.
4. Do get close enough to the ring to be warned by security to not get in the ring.
5. Do shout at the wrestlers, but keep it PG-13. Don't get personal, or you may get beat up. Or kicked out and stranded in a parking lot in Collinsville.
6. Time your bathroom breaks between rounds.
7. Ladies and gentlemen, do offer to buy the contestants a drink afterward, this can happen as they're walking into the dressing room/women's public restroom.
8. Take a camera. You'll need proof of your behavior.
9. Guys, if you bring your girlfriend, make sure to compare her positively to the women in the ring. Yes, she could beat them up. (This may have been the problem Wednesday, many in the audience had their girlfriends with them and appeared to be pretending not to enjoy themselves.)
10. Make sure to check out the merchandise table for photographs, T-shirts, calendars.
If I were to tell you that last night's bout of Catfight Combat was a little disappointing, you'd blame the wrestlers wouldn't you? However, I, an expert on all-girl wrestling troupes and their catty combat, I shout nay, not the wrestlers. They were all in top form, bouncing about their inflatable ring with boundless energy, pulling hair, gnashing teeth, shouting epithets and dropping some 'bows when necessary. No, I am sad to say it was the patrons of Wild Country that bear the blame for a lackluster show.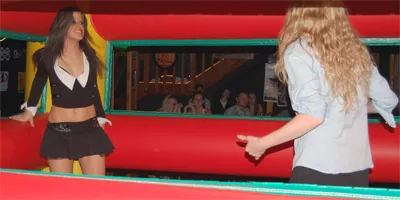 As if they had completely ignored the name of their chosen watering hole, Wild Country's crowd was tame, hardly even registering a few claps when asked to cheer for the feisty ladies entertaining them. Too be fair, this was Catfight Combat's first-round in Collinsville so maybe they'll get their act together by next time, but for anyone planning on attending that show, or one of the Tuesday night shows Catfight Combat puts on weekly at Fubar, here's a guide helping you to know how you should act while scantily clad chicks wail on each other.
Remember "Goofus and Gallant" from Highlights magazine? Well meet Randy and Reginald. They're basically the same guy -- they both like to go out and have a good time with friends and thought that sexy wrestling sounded pretty cool. However, once they get to the bar, they conduct themselves completely differently. See, Reginald acts Bourgois. Randy acts Hoosiois. Try to find out who would make Catfight Combat more fun?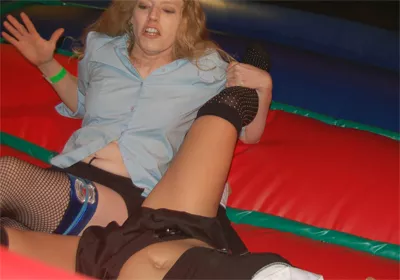 Reginald sits at the bar and drinks a few bottles of beer as he waits for the wrestling to start. He understands if the bartender is busy helping other customers and politely waits while she serves them.
Randy "Give me three beers and .... Holy shit! You sell a boot with liquor in it that you recommend be shared by three people? Why don't I already have one of those in front of me right now?"
When Mike the ring announcer comes out and introduces the crowd to the Catfighters, Reginald turns his head to look, not wanting to seem unduly interested in the rather skimpy outfits the wrestlers are sporting.
Randy: "Rip off her top! Rip off her pants! Rip off her skirt. Rip of her bra!"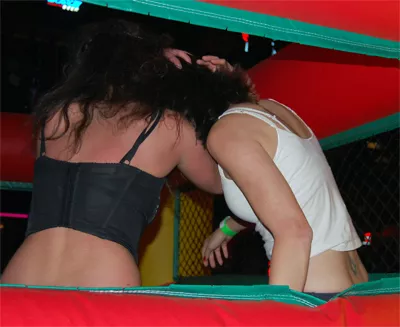 Reginald: Watches the match from a safe distance despite the announcer's suggestions that he can come closer to the inflatable ring to get a better view of the action.
Randy: "You think the ring will collapse if I climb it? Only one way to find out!"
Following his grandmother's advice never to discuss politics in bars, Reginald uncomfortably peels the label off his beer as Mike announces the fight between Sarah Palin and a disenfranchised former McCain supporter.
Randy: "Boooo! Go back to Alaska! Teach that Caribou Barbie bitch a lesson!"
Reginald: Gasps as the girls engage in some acrobatic flips and seemingly devastating body slams. He silently reminds himself that the ring is soft and bouncy and that these girls know what they're doing.
Randy: "Give her the elbow! Ah snap! Holy fuck that had to hurt. Somebody get me another liquor boot!"
When Mike announces that the final round will be a Battle Royale featuring all of the Catfight Combatants in a no holds-barred rumble, Reginald discreetly looks at his watch and wonders how much longer this will go on.
Randy: "If I strip do you think they'll let me fight with them?"
Reginald doesn't feel comfortable admitting that he's watched the entire match so when Mike asks the audience to pick a winner by applause he silently abstains.
Randy: "Woooooo! Woooo! Schoolgirl Sasha rules! Woooo! Wooooooo!"
Now who would you rather watch Catfight Combat with? So if you show up to Fubar next Tuesday or come over to Wild Country on the second Wednesday of the month, take note of your surroundings and then crank your personal volume up to eleven.
Make sure you bring friends to help too, because in a room full of Reginalds, that one guy Randy is just some guy acting like an asshole, but in a room full of Randys, Reginald starts screaming for flesh. Don't be a Reginald. Be a Randy.