Although Missouri's reputation as a bellwether could be a thing of the past if President-elect Barack Obama loses the vote here, the Illinois Senator won big-time last night in other states across the country.
Here's a look back at election night and the final 75 days of each candidate's long -- almost two years long -- campaign.
Photos: Obama in Chicago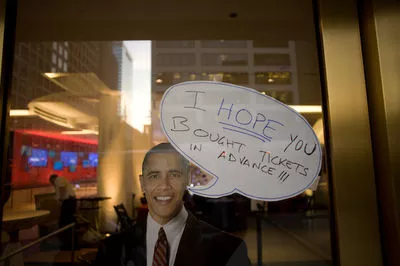 Photographer Katie Hayes was in Chicago last night for the Obama victory speech in Grant Park, where more than 100,000 people overflowed the park's capacity to hear Obama's speech shortly after midnight.
Photos: McCain in Arizona
The Phoenix New Times covered the less-than-celebratory get-together for John McCain and Sarah Palin. You've got to wonder if we'll ever see cheerleader pom poms at a political rally again. More coverage of McCain in Arizona on election night.
Leading up to the election, both candidates fought for Missouri voters' attention.
Photos: Obama Under the Arch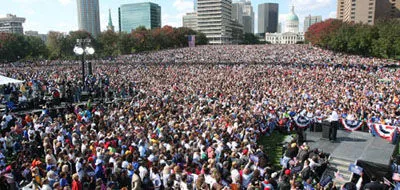 Obama drew a then-record 100,000 people in front of the Gateway Arch back on October 19. Ian Froeb brings you a photo essay of the campaign stop and Lyle Whitworth has a slide show of Obama's Arch rally.
Photos: Palin at SLU, Post-Debate
During the Vice-Presidential debate in St. Louis on October 2, Sarah Palin (check: 15 minutes) was the main attraction, especially at her post-debate rally at Saint Louis University.
Photos: McCain-Palin in O'Fallon, Missouri
Back on August 31, just a day before the GOP Convention was to begin, John McCain and his then newly picked VP choice (along with several other Republican heavy-hitters) fired up the crowds at TR Huges Ballpark in O'Fallon, Missouri. It was the first public appearance of McCain and Palin on in the same venue.
Photos: Obama-Biden in Springfield, Illinois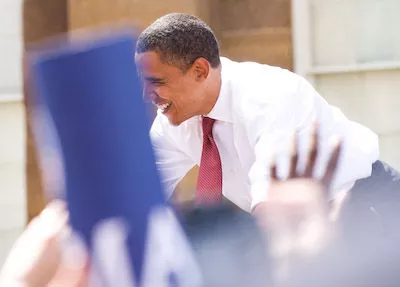 Slide Show The weekend before the GOP-alooza in O'Fallon, Missouri, Obama and his newly picked VP candidate Joe Biden greeted about 35,000 people in Springfield, Illinois for their first public co-appearance to voters.