Halloween events going on around St. Louis. Get your event listed.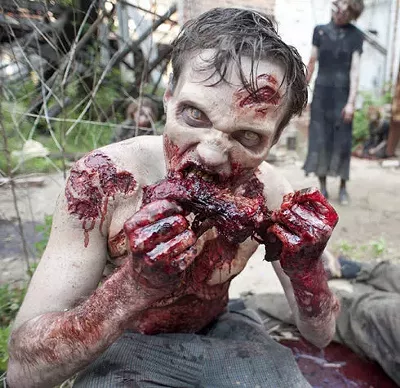 These Halloween endorsements have not been endorsed by Zombie Obama and Zombie McCain.
For a complete Halloween Concert Calendar, check out A to Z.
Fore more events not listed here, check out the RFT Halloween Calendar.
And remember, some clubs and bars may have policies regarding masks and face paint (it's tough to tell who's 21 and who's not behind those layers of latex.)
Costume Contests! Terrible Costume Ideas! Halloween Shots!
You've got to wonder how many people plan on winning all those "sexy Halloween costume" contests using this idea. And if you're still pondering how to dress up, don't pick any of these, "20 costumes that will earn you a Halloween beating." And if none of the events below look appealing, you could always stay home and drink these Halloween-inspired shots or work on your own Predator Jack-O-Lantern.
Sugar Lounge (1405 Washington Avenue) is hosting the "X-Rated Halloween" party with a costume contest that promises $500 in prizes. For more information, check out sugarstlouis.com and for bottle service, call 314-799-8712. It's similar to any other night (hyper-sexed dancing, expensive booze, blinding jewelry) but a little scarier.
Lush Nightclub and Event Space (3037 Olive Street) is also hosting a costume contest -- with $1,000 going to the winner of the sexiest costume.
Lure Nightclub (1204 Washington Avenue) hosts the Playboy Playmate Halloween Weekend, starting Friday with playmate Brandie Moses. A $1,000 cash prize will be awarded to the person with the best Halloween costume. For bottle service, call 314-241-LURE.
Home Nightclub in the Ameristar Casino (One Ameristar Boulevard), will be giving away a $2,000 grand prize in its costume contest, as part of "Haunted Home." Resident Home DJ Jay E will be spinning.
At Pepper Lounge (2005 Locust Street), the SoCo Superheroes Halloween party gets going at 9 p.m. This party has a $500 costume contest and music by DJ Big D.
At Exo Lounge (3146 Locust Street), Bacardi Gold is sponsoring the "7 Deadly Sins" party, featuring palm readings, facial and body paintings, a costume contest and prize giveaways.
If night clubs aren't your thing and you'd rather spend your hard-earned cash on something other than "bottle service," check out these events:
At the Roberts Orpheum Theater (416 N Ninth Street), Illusionist Keith Jozsef hosts a "Halloween Extravaganza." More info on this magical event is listed in our Calendar section.
At Cafe Eau (212 N. Kingshighway), "Hall-Eau-Ween" gets underway with Bacardi rum cocktail specials, the eye-catching "ladies of Bacardi" and a costume contest with prizes.
Frontyard Features and the Old North St. Louis Restoration Group are showing Ghostbusters. The movie starts at 7 p.m. and will be shown inside the newly renovated Parks Building (2820 N. 14th Street), which is part of Crown Square redevelopment at the intersection of 14th Street and St. Louis Avenue. For more information, call 314-241-5031.
Is there a better time to go to a Haunted House than on Halloween? Nope. The Darkness and Creepyworld are advertised as two of the country's best Halloween attractions. They're more than haunted houses, they're complexes filled with fake blood, foam skulls and nightmarish images. Before you go, check our our slide show, "Inside the Darkness." After you check it out, get all the details in our Calendar entry.
At Premium Lounge (4199 Manchester Road), the costume party starts at midnight, but drink specials run all night, including bloody cocktails. First place in the costume contest awards a $100 bar tab, and you get a bottle of booze off Premium's wall. Second and third-place prizes will also be awarded.
The Atomic Cowboy (4140 Manchester) is hosting the "Halloween Funk Jam" from 10 p.m. to 3 a.m. with a scant $5 cover! Hip hop and art takes over on the spooky night. Music with the Earthworms, Royal Illete, Spark 1 Duh, Streddy P and J-Bomb and DJ Mahf, DJ Who and DJ LB on the decks. There's also going to be live art-in-process with Calc 2, Bryan Walsh, Pl@stic and S.A.M.
At BB's Jazz Blues & Soups (700 S. Broadway), Lipbone Redding and the Lipbone Orchestra, whose original New Orleans-flavored, groovy Memphis and NYC styled songs rev the party up, perform at 8 p.m. Tickets are $10 at the door. For more information, visit bbsjazzbluessoups.com