At 25, Benton, Illinois native Tommy Johnagin has reached a trifecta of comedic goals it traditionally takes decades to achieve: appearing on the "New Faces" showcase at last year's Just For Laughs Montreal Comedy Festival, debuting on The Late Show with David Letterman in May, most recently, the August taping of his own Comedy Central Presents half-hour. Though he won't know the exact air date until December (as of right now it's "early 2009"), audiences can get a sneak peak when the local boy-made-good headlines the St. Louis Funny Bone this week.
How did your Comedy Central Presents taping go? It went really well. It was exciting and it was something I wanted to do for a long time. It came quicker than I expected, actually.
What do you attribute that to? It kind of snuck up on me. I made it my goal to work as hard as I possibly could the whole time I've been doing this. I didn't really take my time doing anything. Just constantly writing and constantly performing, I think that's the way it happened.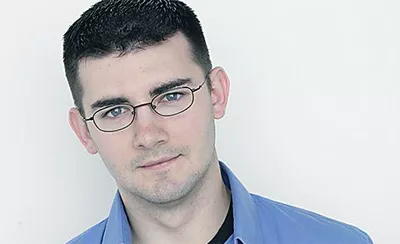 Was there a point where you realized, "Hey, it's starting to turn around!"? When I got Montreal, I didn't know that the people who booked Letterman would be in Montreal. Then in my head I made it a point that when I went into the Montreal showcase, I wrote it as kind of an extended late-night spot. You do about twice as much at Montreal as you would do on a late-night spot, but I thought if I could do well and they liked me that I could get on, and that's kind of exactly what happened. But I feel like getting Montreal and getting Letterman are definitely the big points of my career where I thought that maybe this would work the way I wanted it to.
Part of doing Letterman is that you have to be relatively clean for the TV audience. Was there a specific point where you consciously decided that was what your humor was going to be? Was there a lot of trial and error or was that authentically you from the beginning? When I started out I was really, really clean. And now I just don't curse. It's amazing how, maybe not on Letterman or whatever, but as far as clubs and doing a half-hour special, I can still talk about sex a little bit and things that may not be things that you would talk about at church, but people still call you clean if you don't curse. I don't use words that they have to bleep so it's pretty simple to do TV sets that way.
Is there an overall idea of what you would like your legacy to be? Is there a legacy I want to leave? I've been thinking about that more lately. I don't know if it should be important to me, but I would love to be a comedian that other comedians think is funny. That sounds kind of ridiculous when I say it out loud.
There are definitely comics' comics, and there's more your Dane Cook types, for example. Brian Regan is probably the biggest one that all comics would say is amazing. And there's Jake Johanson., this guy Robert Hawkins, who, when he goes into a city, you'll look in the back of the room, and there'll be like five to ten comics that just came out to the club to watch Robert Hawkins. I think it would be fun to have that. And eventually just have my own audience, like Jim Gaffigan or especially Brian Regan. Not even on that theater level, but just doing clubs and having people come see you specifically… It's funny how when I started I was, "Oh, I just want to do stand-up. I want to do Letterman. I want to do a half-hour special. And then you get other people involved, whether it's people that are friends who have TV shows or agents, and they literally trick you into thinking that's not what you want. You're like, "Oh, I just want to be a comic." And they're like, "No, you want to be on TV, and then you can be a comic wherever you want." And I'm like, "Oh, that's what I want? I'm very confused."
You want to have people to come out to see you specifically, and through acting is one way to do it, but you'd always be wondering, "Well, do they actually like my comedy or they did they me doing something completely different on a TV show?" Yeah. It's not the only way to do it. If you're on Two and a Half Men for three years, maybe you'll be able to sell tickets. If you do it the way I'm doing it, it may take 15, 20 or 25 years, but the journey is still enjoyable.
Tommy Johnagin. October 22-27. St. Louis Funny Bone, 614 West Port Plaza. 314.469.6692.