A pal in the judiciary informed Unreal last week that legal eagles have been squawking about a cluster of campaign signs planted on the front lawn of a Missouri Court of Appeals judge. It seems that Missouri judges aren't supposed to broadcast their political leanings, per Canon 5 of the Supreme Court rule book.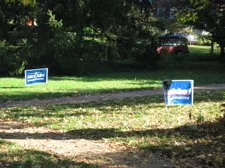 We checked out the tip, and sure enough, Court of Appeals (Eastern District) Judge
Kenneth Romines
has four signs on the front lawn of his Webster Groves home. The beneficiaries (all of them Republicans):
John McCain
,
Kenny Hulshof
,
Eric Schmitt
and
Randy Jotte
.
Romines tells Unreal he wishes it weren't so. Here's the poop, er, scoop:
Unreal: Why is your front yard endorsing political candidates? The Honorable Kenneth Romines: You'll have to ask my mother -- I mean, my wife and daughter. I have put nothing up. And I put nothing on my car. But my wife is a strong-willed person. I sometimes do not agree with what she puts out there, but she operates under her own rules.
Hmm. I guess since you both own the house, that might be kosher? I believe the bank still owns it. I haven't seen the deed yet. I'm in hopes that I'll see it someday, before I die.
Well, did you have some kind of heated discussion with your wife about these signs? She never talks about anything like that with me. You do not know my wife.
Am I the first person to ask you about this? Yeah.
I see. So I guess if people are that upset, they haven't had the guts to confront you. I would suspect it's probably some neighbor who brings their dog four to five blocks to poop in my front yard, and the sign's in the way of their dog pooping in my front yard.
So you're good friends with your neighbors? Most of them. Except those who bring their dogs from four to five blocks away to poop in my yard.