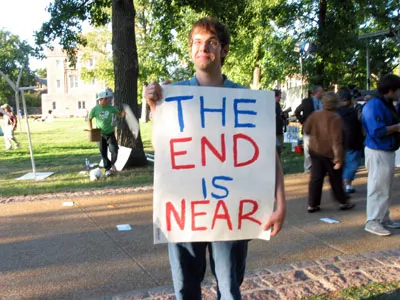 Jesse Houston, Apocaplyptic
What does that sign mean, 'The end is near'? [Houston points to his ass.]
Ah. I see. So I see you're a McCain supporter. They treating you right here? I'm an endangered species. Generally it's been pretty good. But people assume everybody is [an Obama supporter].
What book are you carrying?
The Mill on the Floss. I have to read 100 pages tonight. Let's see if that happens.
[Houston was later observed sitting on a bench dutifully reading his George Eliot.]
Austin Hope, Green Man
You got hope? [Disgusted look.] Sorry, just kidding. What's with the windmills?
It's part of Green Action. We're working with an energy action coalition called Power Vote. We want to get one million college students to sign our petition. We want to show that there's a new, powerful voting bloc that cares about issue. People need to pay attention. We're non-partisan.
Do those windmills do anything?
They do spin, but they're made of wood and PCV pipe, so they don't do much else. They make a statement. People pin messages on them. Most of the messages came from the last university they were at.
They travel?
I know they were at Ole Miss for the last debate, and once they're done here, they're going to make a whirlwind tour through Tennessee to the next debate site.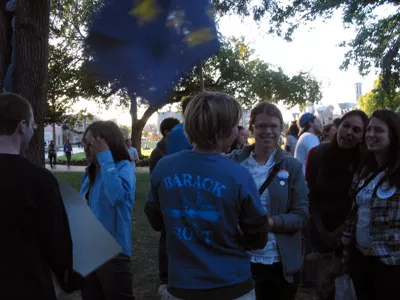 Jillian Lush and Melissa Keevo (holding flag), Alaskans
Were you living in Alaska when Sarah Palin ran for governor?
Jillian: Yes, but I didn't vote for her. I voted for Tony Mills. People there love her. It's unfortunate, but she's very supportive of the oil industry and so are many Alaskans since it's a source of income.
Melissa: Alaska is… Well, there are only 600,000 people in the entire state. Even the governor of the state is not going to be involved in national policy. A lot of Alaskans want to get away from the Lower 48. It's an intentional separation.
Why?
Jillian: The place can be isolated. There are a lot of runaway felons. Does everyone there eat moose?
Melissa: I've eaten moose. It's delicious. I don't blame her for eating it.
Is it hard being a liberal in Alaska?
Jillian: No. We're from Homer, which is a really unique place. There's a large movement of people who are not…anti-Palin, but in support of progressive views. This conservatism isn't typical of Alaska. But when the pipeline came, there was this conservative shift. There was a movement of progressivism, people who were upset about the environment and drilling.
Can you actually see Russia from Alaska?
Melissa: You cannot see Russia from anywhere in Alaska.
Jillian: I used to think I could see Russia whenever I was at the beach. But that was when I was six years old. I just want to say, Alaskans are not typically politically active. But now there's a movement against Palin. There was just the biggest rally in the history of Alaska, women against Palin. So many people turned out – remember, it's a state of 600,000 people.
Melissa: It's such a contrast. It's not a political place, but it's changing.
Ashley Ornberg, Community Organizer
I am the source of all wisdom. I was a community organizer in Vermont with VISTA. I get frustrated when Palin minimizes the impact of community organizers. I just saw Howard Dean earlier today and he alluded to community organizers. They are the foundation of a community of active participants. There. Aren't I the source of all wisdom?
Lauren Birlli and Karl Skyare, Star-Crossed Lovers
Has this election caused a lot of strife in your relationship? Lauren: Not really. Karl: People do take a lot of pictures of us, though.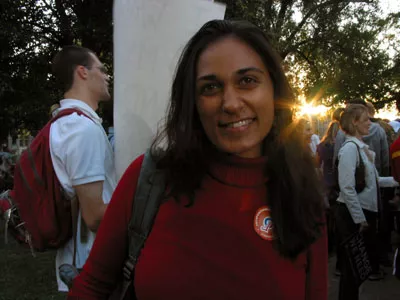 Shantha Ready, Former Community Organizer
I worked in the same network that Obama did when he was an organizer. It was congregation-based group. It was a really unique way of looking at faith. Politics is not about elections. It's an ongoing process of civic engagement.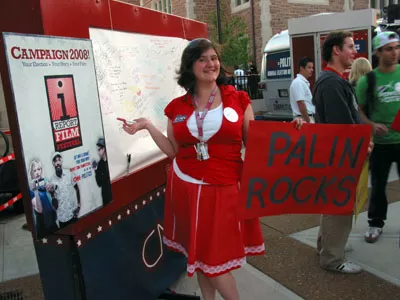 Rachel Strength, Red Hot McCain Mama
Did you pick out this outfit especially for the debate? Definitely. All red.
Matt Watkins, Engineer
What are those?
They're Rock 'Em Sock 'Em Robots. We're hoping they'll decide the election.
Who's winning?
Blue so far.