Earlier today I interviewed St. Louis native Sean Quinn, who is blogging about the presidential election at the increasingly popular and influential FiveThirtyEight.com.
The Web site, founded by Baseball Prospectus guru Nate Silver and named after the total number of electoral votes at stake in the election, provides a rolling projection of the election based on a meta-analysis of state and national polls.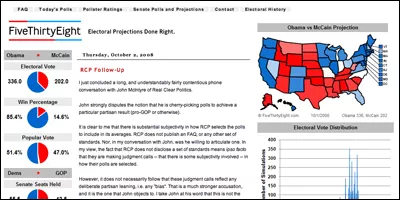 (The site's FAQ explains the process in much greater detail. As of this writing, Obama is projected to defeat McCain 336-202; Obama also wins over 85% of 10,000 simulations of the election.)
The 37-year-old Quinn, a graduate of Clayton High School, is currently in St. Louis for tonight's vice-presidential debate between Senator Joe Biden and Governor Sarah Palin. I'll have a longer profile of Quinn and his work for FiveThirtyEight in next week's issue. After the jump, check out Quinn's take on tonight's highly anticipated showdown.
On Palin: "She filibusters with words. Her manner of filibustering isn't like other politicians. She's like the kid in high school who's called on and is underprepared. She needs to take control."
On Biden: "Palin's going to have talking points she'll cling to like a life raft. Biden should attack McCain for putting her in that position. I would say something like, 'She's gutsy. She's really doing her best.' But not say it in a condescending way. Like, 'It's not easy to get up here and do this. For McCain [to make her], that [shows] his style of leadership."
On the media spin: "[The McCain camp] is going to call foul on anything that comes close to sexism and condescension. But that train has left the station. The entire media does not take Palin seriously at this point. Behind the scenes they're just laughing at her. It's not partisan. The media wants there to be a train wreck."