Several Washington University students had the opportunity to serve their country this afternoon by standing in for candidates Sarah Palin and Joe Biden and moderator Gwen Ifill while technical crews worked out the sound, lighting and podium height for Thursday night's debate.
Danny "Joe Biden" Gaynor, a junior majoring in political science, gave Unreal a call to talk about standing in for a Senator.
Unreal: How did you get into character as Joe Biden? Danny Gaynor: I can't say I did much more than read interviews. I'm politically aware. I've watched some of his other debates. I'm wearing nice shoes, tie and shirt and I ironed everything. I haven't had a chance to go on yet, but with the last Joe Biden, questions about his favorite cereal, favorite TV show, favorite subject and favorite teacher were on the docket.

Gaynor
Are you going to answer questions as Biden or as yourself? As myself. I wouldn't presume to know Biden's opinions on these subjects. The fake Gwen Ifill will make up the questions. We'll be on for two hours or so. It's a rare opportunity to go into the debate hall, where none of the students are allowed to go, and see my head blown up to eight-feet tall on the big screen.
Do you intend to make any gaffes? [Laughs.] No. As Washington University students, we intend to focus on Wash. U. and how excited we are to go to school here, not about politics. I did suggest to the next Gwen Ifill that she ask us what we like in a man or a woman.
Are you going to the debate tomorrow night? I put my name in the lottery, but I didn't get picked. I'll be working the student tickets, though, so I'll get to see the joyous faces of the students who get to go. It's been fun to see all the activity around campus.
This morning I got to go with the people from CPD [Commission on Presidential Debates] productions to buy foam to coat Gwen Ifill's desk so her cast doesn't bang.
Will you get to sign it? She's not here yet, but if I get the opportunity, I'm going to John Hancock that thing right up.
Gaynor then passed the phone to Lydia "Gwen Ifill" Beasley, a senior studying biomedical and chemical engineering.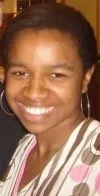 Beasley
How did you get into character as Gwen Ifill?
Lydia Beasley:
I'm somewhat familiar with her from her work on PBS. I borrowed a suit and my boyfriend's glasses.
Have you thought about questions? We'll see. I have to give it some thought. I'm going to keep it as non-political as possible.
Since the conservatives are complaining Gwen Ifill is biased, are you going to favor Biden with your questions? I'm not going to favor Danny. I just want to represent the university without causing a problem. It's been surreal. I didn't know we'd be going into the debate hall. I just thought we'd be in a green room somewhere, but I'm going to be sitting at the same desk Gwen Ifill will be sitting at.
What are you going to do about Ifill's broken ankle? It was suggested that I limp, but I think I'm going to forego that.