St. Louis Board of Aldermen President Lewis Reed says he doesn't even know where the button that turns on his heated steering wheel is located.
Nor has he ever turned on the heated seats in his Buick Lucerne, bought for him by the City of St. Louis at a cost of $25,567.
The "luxury" features on the sedan caught the attention of State Auditor Susan Montee, who noted in an audit of City Hall released Tuesday morning that the options were "unnecessary."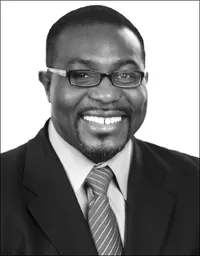 Lewis Reed
Reed, along with St. Louis Recorder of Deeds
Sharon Quigley Carpenter
, both drive the
Lucernes
.
Reached by phone Wednesday afternoon, Reed says he had no clue about the features.
"I still live downtown. By the time the seat would heat up, I would be at work," says the alderman, who lives in the city's 6th Ward. "Not until I saw that auditor's report did I know the car had luxury items included.
"Heating steering wheel? I don't know where the button is for that."
The audit also found that Reed used his city-owned car for personal use and didn't keep a mileage log. Reed maintains he was never told of such a requirement.
"At the time when I received my car, nobody said, 'By the way, keep a log and this is the format for the log.' I never received any of that information at all. That was a really good recommendation from the auditor."
In a blog item posted here Tuesday, RFT cheekily noted that Reed had spearheaded a bike-to-work initiative at City Hall in late spring.
Reed took the poke good-naturedly but says the initiative has gained some traction. His aldermanic colleague Kacie Starr-Triplett, for instance, began pedaling to work. So did Mayor Francis Slay's chief of staff, Jeff Rainford -- though Rainford stopped after he was hit by a car while on his bicycle. (Reed doesn't recall if Rainford was riding to work at the time of the incident.)
Bike Lane Dispute Rolls Through In other two-wheel news, Reed says he's been facing a "huge aggravation" over a dispute with the city's Street Department. After many downtown streets were repaved this summer, street department officials refused to repaint stripes for dedicated bike lanes.
"They are saying there isn't enough room on Olive [Boulevard] between Grand and Compton for a bike lane," Reed scoffs. "I mean, come on. On Olive -- that's one of the widest streets for bike lanes in the city of St. Louis!
"It's important that the street department, that everybody in the city of St. Louis understand that 'share the road' is a real thing," Reed emphasizes. "Bikes belong on the streets also."