Here goes installment number two of St. Louisan Kerri Morgan's trip to the 2008 Paralympics in Beijing. Morgan will compete soon in the 100-meter and 200-meter track & field events. (Read Morgan's first impressions of Beijing here.)
By Jennifer Silverberg
Kerry Morgan in January 2007.
RFT: Is the Bird's Nest really blue, or,...?
Kerri Morgan: In the day, you see the metal shell of the Bird's Nest which is silver. At night they light up the Bird's Nest different colors. I have seen it when it is red. We practice on a track at the base of the Bird's Nest. Our events will take place inside it.
Tell us about the best dumpling you've had so far.
I have not left the village to eat yet. So, the only dumplings I've had have been in the dining hall, which actually have been very good.
By Jennifer Silverberg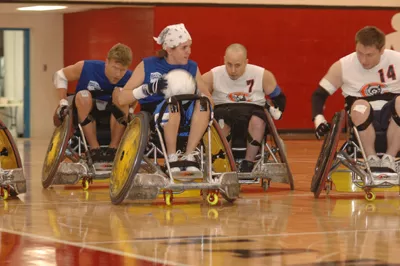 Kerry Morgan in January 2007.
Kerry Morgan in January 2007.
What do the Paralympic swim-team members say about Michael Phelps?
I haven't really talked to the swimmers about Michael Phelps. Although, I can tell you that swimming is a very popular event this year at the Paralympics -- it is the only event, I believe, that is completely sold out of tickets.
Have you picked up any Chinese?
Before we arrived in Beijing we had a quick crash course in the Chinese culture and language. I know the basics – "hello," "thank you," "see you later." I also learned how to say "I love you," which we sometimes tell the volunteers and they laugh. The volunteers tell us stories about some of the athletes: The thing they like to talk about is the USA basketball players.
Morgan adds: Yesterday went to the Great Wall of China. Not the most wheelchair accessible environment! But since it is so old, did not really expect it to be. The staff at the Wall was very helpful in assisting us up really steep hills. It was truly amazing to see.