With all the horses lined up in the gates, we're just waiting for the starter's pistol.
Following Democratic Presidential candidate Barack Obama's pick Saturday of Delaware Senator Joe Biden as a running mate, Republican Presidential candidate John McCain decided to take the political pissing contest to the next level today by naming his running mate the night after Obama's speech. And the pick is...Alaska Gov. Sarah Palin? Not everybody is surprised, one blogger called it back in February.
Well, there's no question about it, it is Sarah Palin, but the pick is probably provoking a few head scratches from the now-defunct republican vice presidential posse of Mitt Romney, Mike Huckabee and Tim Pawlenty (you'd think a Governor from Minnesota would have more mainstream appeal than someone who sees moose on a regular basis). Wonder if there will be any hard feelings present when Huck and Rom appear with McCain on Sunday in O'Fallon?
But you can draw your own conclusions about the VP candidates on October 2. Washington University is hosting the only vice presidential debate, when the eyes of the nation will be on the St. Louis university. This is the fifth time the university has been selected by the Commission on Presidential Debates to host a debate, according to a Washington University press release. As it stands now, Wash U is the only institution to host more than two debates.
In the meantime, the intrigue grows...
Will Biden, the loquacious senator from a state best known for tax-free shopping, wax poetic about his days as a Blue Hen when he should be talking about why the democrats belong in the White House?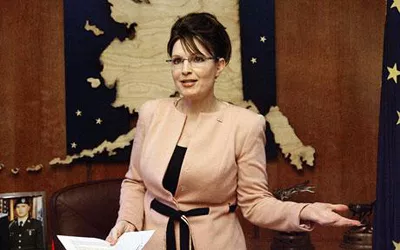 Will Palin, Alaska's first female governor, wear pant-suits in a not-so-subtle pitch for disaffected Hillary supporters? (In one photo, the mother of two was also seen cradling her four-month-old baby, which could raise the stakes in the cute children competition. Obama, after all, has two young daughters, but they can stand.
- Unreal
UPDATE 2:09 p.m.
Here's what Mo Republicans are saying about Palin:
Governor Matt Blunt's statement: "Governor Palin is a sharp, aggressive person. She has been a tough executive for her state and she is an outstanding choice for Vice President.

"I first had the opportunity to meet Sarah Palin in her campaign office in Anchorage when she was running for governor. I was impressed with her at that time and I have been very impressed with her term as governor.

"As a fellow governor I understand the experience she will bring to Washington having managed a large budget, lead the state's National Guard and made tough executive decisions for her state including cutting spending.

"Washington is broken and I think it is important that Senator McCain has selected someone from outside Washington as his running mate to help him change Washington."

Senator Christopher "Kit" Bond's statement: "Sarah Palin is a bipartisan reformer who brings the executive experience and values voters in Missouri and across the nation are looking for. Not only as a Governor, but as a mother of five children, Palin understands what American families want economic security, health care security, energy security from the foreign oil cartels, and security from threats at home and abroad."

Chairman Doug Russell's Statement:

"Sarah Palin is a strong conservative and the Missouri Republican Party is proud to have her as the vice presidential nominee for the Republican Party. Throughout her career she has proven herself to be a true reformer, and a tough executive, someone who has a record of delivering on change and reform. Missouri voters can take comfort in knowing that she understands the problems facing the country and will do all that she can to protect our values and keep America safe and strong."