Anyone who's been to the Delmar Loop since March may have seen construction and electrical work being done along the sidewalks. Holes were dug, jackhammers shattered ear drums and wire was pulled.
It's part of a project to install 93 street lamps along Delmar Boulevard. The lamps hold 50-watt bulbs and the project was slated to run from March to November, though it appears the street lamp phase may be completed sooner. Landscaping along the street has also been performed, including the trimming of dead or dying trees.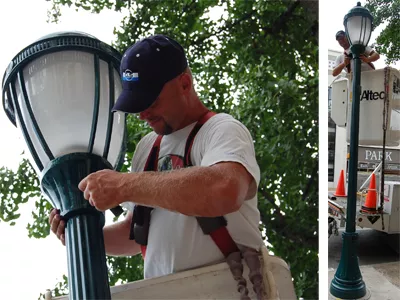 Above, Craig Roland of Custom Lighting Service, is perched in a bucket on this boom truck to install the foundation of one of the street lamps, at about 1:30 p.m. on Thursday, August 14.