Welcome to Monday morning, St. Louis. Now that you've pulled yourself out of bed, been annoyed by Matt Laurers' self-referential grooming habits and spilled coffee on your lap (OK, that was only some of our mornings), here's what you may have missed over the weekend.
"Weird" Al Yankovic at Family Arena
Perhaps best known for his 1996 parody of "Gangsta's Paradise" by Coolio, the singer turned out a thoroughly entertaining set on Friday night. If you missed the set or are just wondering what a Weird Al show is like in 2008, check out Ryan Wasoba's review and photos from the show.
Jon Hardy and the Public at the Chapel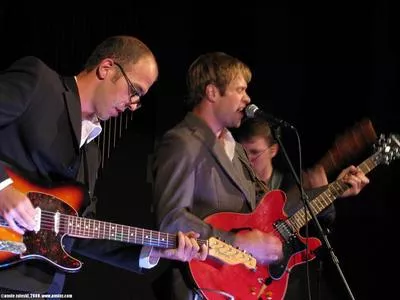 Also on Friday night, St. Louis' Jon Hardy and the Public played at the recently opened music venue at 201 S. Skinker near Washington University. Annie Zaleski has the details about the new venue, photos and a recap of the show.
Manchester Nightlife in Photos
Photographer Jason Winkeler headed out to the Grove neighborhood Saturday night and hit the bars of Manchester. At rBar, the White Hot Party was underway was a send-off to the lounge and dance club. Management at rBar says the club will reopen in a matter of weeks with an interior renovation and a new name -- AM Lounge.
At the Gramophone just down Manchester, pastel suit coats and lacey Madonna gloves were back in vogue for the '80s Prom.
Here's what you don't want to miss this week.