Not all athletes are fit to be in commercials for thick-and-chunky soup, or posing for cameras while high-fiving kids with disabilities in televised public-service announcements. Just not going to happen, because athletes are people too.
St. Louis is a sports city unlike any other of comparable population for its history and tradition. But it has had its share of problem athletes and fiery characters.
Some have been downright villainous, while others' actions seem to fall into the realm of "WTF were you thinking?"
Here they are, the biggest thugs in St. Louis sports history. Put your suggestions at the bottom.
Lawrence Phillips:
The
insanely talented
St. Louis Rams running back drafted out of Nebraska for the 1996-1997 season.
He's also the football player who dragged his ex-girlfriend down a stairwell by her hair and shirt, after finding her at the apartment of a former teammate. He was suspended from the Nebraska team, but not kicked off. Coach Tom Osbourne defended his choice, saying Phillips needed the structure that a football team provided. Sadly, no coach could ever figure out Lawrence Phillips. He was drafted by the Rams but then cut in November 1997. He went on to play for the Dolphins in Miami, where he pleaded no-contest to assaulting a woman in a nightclub. Other trouble related to his attitude followed him to NFL Europe and the Canadian Football League.
In '05 Phillips allegedly drove his car into three teenagers after getting into an argument with them following a pick-up football game. That case ended in a conviction.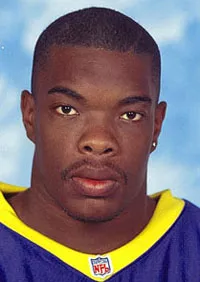 Leonard Little:
This St. Louis Rams defensive end got drunk on his birthday in October 1998 and
crashed into another motorist
, who died as a result of the injuries. He received 90 days in jail, four years' probation and 1,000 hours of community service.
Six years later Little received another DUI and speeding charge. He was acquitted on the felony charge (a felony because of his 1999 conviction) and given only a misdemeanor speeding conviction.
Rob Ramage:
The NHL player's fifteen-season career included time with the Blues before he retired in 1994. He still lived in the St. Louis area, working as a financial broker in Clayton.
In December 2003, a drunk Ramage was driving with passenger and former Chicago Blackhawks player Keith Magnuson. When he swerved into oncoming traffic, Magnuson died as a result of his injuries. Ramage was sentenced to four years in prison in January 2008. His lawyers said they would appeal the conviction and sentence.
Mike Danton:
Truly one of the most bizarre sports stories in St. Louis history.
Mike Danton was a left winger with the St. Louis Blues during the 2003-'04 season, after being traded from the New Jersey Devils.
Danton was arrested and charged with conspiracy to commit murder in the spring of '04, and pleaded guilty in July of that year.
He admitted to attempting to hire a hit man (who actually was a police dispatcher) to kill his agent, David Frost. Danton was sentenced to seven and a half years in prison and could be out of the federal pen by 2010.
Rumors still float around about the nature of the relationship between Danton and Frost (Frost was controlling, they were in love), but none that have been proven.
Doug Gilmour:
Not a thug. Drafted by the St. Louis Blues in the seventh round of the 1982 draft. Revered by fans to this day for his prolific goal-scoring.
But Gilmour was implicated in a nasty civil suit involving sexual misconduct and a thirteen-year-old babysitter. He was quickly traded away to the Calgary Flames in 1988.
He was more or less traded to take the public heat off St. Louis and improve the team's public image. A shameful hurdle that Gilmour had to get over. He was never charged.
Scott Spiezio:
This saga should still be fresh in all of our memories.
Scott Spiezio was a utility player for the St. Louis Cardinals who proved himself a solid presence on the team that won the 2006 World Series, including a memorable triple against the New York Mets in Game 2 of the National League Championship Series.
But Scott's addiction problems plagued him off the field. And we're not just talking about his addiction to nu-metal.
Spiezio was arrested in February 2008 for driving under the influence, a hit-and-run and aggravated assault and battery. All these charges stemmed from an episode that should have made COPS.
Spiezio had to be put on the "restricted list" for his drug abuse late in the 2007 season, and kept there for more than a month. When the Cardinals released him following his arrest, he was briefly picked up by the Atlanta Braves, only to be dropped when he failed to live up to his promise to show up to work every day prepared to play.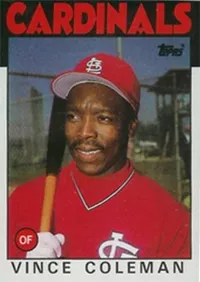 Vince Coleman:
The St. Louis Cardinals player had the best year of his career in 1987, posting a .289 batting average and an astounding 109 stolen bases.
Coleman became a New York Met in 1991. And in 1993 he threw a lit firecracker into a group of autograph seekers in the Dodger Stadium parking lot. Three fans were injured, including an eleven-year-old and a two-year-old. Coleman was sentenced to 200 hours of community service and suspended by the Mets for the rest of the season. WTF. He's now a devoted golfer in Arizona and reportedly a 2 handicap.
Bob Gibson:
One of the toughest competitors in baseball history -- he'd throw waaay inside to brush your punk ass off the plate. Said the former and deserving home run king, Hank Aaron, of Gibson:
"He'd knock down his own grandmother if she dared to challenge him. Don't stare at him, don't smile at him, don't talk to him. He doesn't like it. If you happen to hit a home run, don't run too slow, don't run too fast. If you happen to want to celebrate, get in the tunnel first. And if he hits you, don't charge the mound, because he's a Gold Glove boxer."
Gibson carried that fightin' attitude into retirement, throwing a brush-back pitch against Reggie Jackson in the 1993 Old Timers Game that was part of the All-Star Game festivities.
And in 2002, The Dominator got in a fist fight at a gas station near his hometown of Omaha, Nebraska, after a stranger cut him off in traffic. The stranger apparently needed six stitches above his eye. Gibson was unhurt.
Keith Hernandez:
Drafted by the Cardinals way back in the 42nd round of the '71 draft, the now Just For Men spokesman proved to be a valuable draft pick. He led the league in average, doubles and runs scored in '79 and shared the MVP. Nice going! But he also liked the blow, unfortunately. This doesn't make him a thug by any stretch of the imagination, but it's not a gold star either. Hernandez -- along with 22 other baseball players -- became a figure in the trial of Pittsburgh drug dealer.
He bounced back, beat the coke addiction and played himself as Elaine's boyfriend on Seinfeld.
Then, as a broadcaster for the New York Mets, he said women shouldn't be in the dugout. On national TV. About a staff member of the San Diego Padres. He apologized, kind of, by saying, "You know I am only teasing. I love you gals out there -- always have." He had his apologists and enemies on that issue.
Leo Durocher:
He wrote bad checks in New York City as a Yankee, but who can blame him for getting caught up in the night life of the Big Apple?
He was traded to the Cardinals in 1933, and played and managed the Gashouse Gang. His fiery attitude and colorful language fit the smelly squad that eventually won the 1934 World Series against the Yankees.
Though he was never known as an outright bad guy, he coined the phrase used by many a bad ass: "Win any way as long as you can get away with it. Nice guys finish last."
Honorable Mentions - Lou Brock for stealing all those bases. - Albert Pujols for stealing Brad Lidge's mojo, permanently, in the 2005 NLCS. - Mark Mulder for stealing $13 million from the St. Louis Cardinals.