Good morning, St. Louis.
Christmas in July at Pepper Lounge
Slide Show On Friday, it was Christmas in July at Pepper Lounge. Photographer Jason Winkeler was there and we have posted a slide show of the holiday fun.
Helmet at Rockstar Nightclub, 7/25/08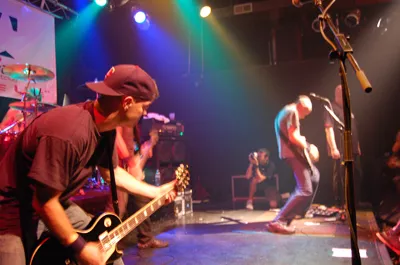 Also on Friday, Helmet played Rockstar. Shae Mosely was there and has a review plus photos. Here is a teaser:
Saving the best for last, the band catapulted into a blistering version of "In the Meantime," whipping the crowd into its most frenzied state of the night and ending on a powerful note. But then the band members didn't leave the stage. For a good 30 to 45 minutes after the show, they stuck around...MORE
Second Anniversary at Throttle Nightclub
Slide Show
On Saturday night and into Sunday morning Throttle Nightclub on Laclede's Landing celebrated its second anniversary party. DJ Flex Boogie and Shorty Da Kid performed to a wild -- and thirsty crowd. Photographer Vikram Singh was there. See if you can spot the photo of the guy in a tie chugging a bottle of liquor. Reports of him drunkenly handing out his business card to younger women remain unconfirmed.
Here's what's going on this week.