With the merger of Anheuser-Busch and Beligan brewer InBev pretty much a done-deal, let's get to know that spunky country a bit.
Marc Tielemans is the creator of FamousBelgians.net.
Yes, a Web site about famous people. From Belgium. The concept is alien to us, what with our racks and racks of glorious and glossy Look, OK!, In Touch and People magazines. And I'd be remiss not to include Perez.
There are so many famous faces here that celebrity backlash is a cycling phase. (If you're keeping track at home, the attention paid to celeb-interest barometer Paris Hilton is at an all-time low. And who gives a shit about Tom Cruise's kid if he's not jumping up and down on a bean bag chair in front of Oprah?).
At any rate, with the buyout of Anheuser-Busch by InBev of Leuven, Belgium, here's the celeb match-up of Belgians vs. the Yankees, no scratch that, the rundown of Belgium (population 10.5 million) vs. St. Louis (population 350,759).
Will Busch Stadium be renamed Beck's Field? How about Stella Stadium?
Sports Broadcaster St. Louis: Joe Buck. Belgium: Rik de Saedeleer.
National audiences know Joe Buck, the sports broadcaster and son of legendary St. Louis Cardinals announcer Jack Buck. His uncanny ability to work with Tim McCarver and not push him out of the broadcast booth is commendable. Though he was offered more opportunities because of his dad, the younger Buck is one of the best announcers in the game. However, Saedeleer is a football/soccer legend. As beloved as Mike Shannon. Known for saying, "Goooooooooal!" Full of hearty laughter and an enthusiastic "Ha Ha Ha!" Saedeleer is beloved over there. This one is a tie.
Famous Actress: Belgium: Audrey Hepburn St. Louis: Phyllis Diller
St. Louis clearly loses points on the serious acting front, but when it comes to comedy, St. Louis has fertile soil for jokesters. St. Louis also has Jenna Fischer (Pam from The Office) to its claim. As for Hepburn, I'll copy this graf from Famous Belgians: "She was born Edda van Heemstra Hepburn-Ruston in Brussels. Her father was a British banker and her mother a Dutch baroness, and Hepburn was educated at private schools in England and the Netherlands. In World War II (1939-1945) she suffered oppression and malnutrition while living in the Netherlands with her family during the Nazi occupation. She later worked as a model, and started acting in films in 1951."
Audrey (and Belgium) wins this one.
Best Singing Novelty Act: Belgium: Jeanne Deckers (The Singing Nun). St. Louis: Nikko Smith
Both are novelties in that they came from backgrounds not known for pop music -- Smith, an American Idol contestant and son of baseball-playing dad Ozzie Smith, and Deckers from the convent. It's a close score, but Deckers had a Number 1 hit, so she gets the title.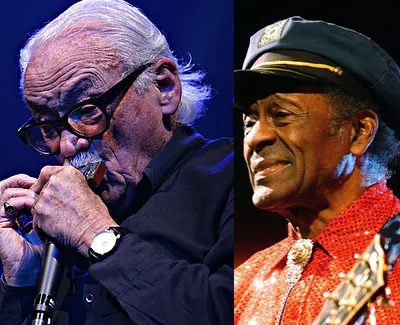 Best Blues/Jazz/Rock artist: Belgium: Jean ''Toots'' Thielmans St. Louis: Chuck Berry
The two were born only four years a part (Thielmans in 1922 and Berry in 1926). Thielmans is known for his harmonica playing and Berry for the guitar. Ol' Toots has been called one of the "greatest musicians of our time" by Quincy Jones -- and he played the harmonica on the Sesame Street theme. No I can't hum it either. But, Berry wins for his influential songs that inspired bands like the Beatles and Rolling Stones.