Last Night: STLectro Vice Thursday
What You Missed: A night of electroclash music and drink specials at Rue 13
Where: 1311 Washington Avenue
Better Than: Falling asleep to one of your DVD's of 24, for the 365th time.
Sauntering into Rue 13 around 10:45 p.m. for the STLectro night promised on Thursdays, you hope to find a room full of Dieters, from Sprockets, waiting for the perfect time to ''danse.''
Sadly, the room lacks that element of black turtleneck wearing, eastern European drama you were hoping for. As for the ''vice'' portion of this Thursday event, the double shots for ladies and the $1-off beer all night, could certainly lead one to incendiary behavior.
At first, you want to keep an eye on everyone, as a cautious observer. It wouldn't be prudent to get too involved in all this sketchy vice-loving, foreign computer music whatnot before you know exactly how these things usually go down. What would Jack Bauer do? He would probably do plenty of shots, to disguise himself as a regular and end up becoming an alcoholic. What does 24 have to do with electro night? Don't worry about it.
This is how the night unfolded; ''24 style.''
11:00-11:15 p.m. - Yes! Rockstar parking is scored on Washington Avenue, so you have less bums to fight on your way to the door. Some drunk guy sitting out on Rue 13's patio is all like, ''heyyyy, how's it going?'' You shoot him an ''as if'' and enter the club, only to find that you left your I.D. at home in your workout shorts. The doorman is very skeptical. Blowing your cover, you explain that you're on a mission, of sorts. In a very Godfather-type move, he leads you over to one of the co-owners, Retrospectacular, who waves you on. A Sprite is ordered from the bar. You must be on your toes, damnit.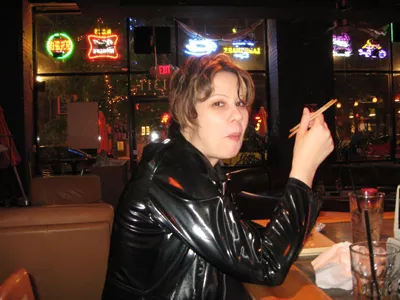 11:15-11:30 p.m. - Lone girl on the dance floor, wearing a shiny jacket. You'll keep an eye on Lone Girl, she's brazen; could be trouble. A bunch of people canoodling at the bar turns into loud roughhousing as stools are knocked over. You leap up, ready for action, but sit quickly when it turns out that they were just joking around. They exit the building. You nod in satisfaction. Another potential crisis averted.
11:30-11:45 p.m. - DJ Hottflash plays CSS' ''Let's Make Love and Listen to Death From Above.'' Is that code or something? Wait! Lone Girl has left the dance floor. Damn it! Now she's eating inexpensive and delicious sushi from Rue 13's very own sushi bar. Now, no one is dancing.
11:45-Midnight - Two promising Dieter meets Davey from AFI guys walk in. It looks promising. Iz dis the time on Sprockets when we danse? Yes? No? Nope.
12:00-12:15 a.m. - The three remaining girls at the bar leave. They are taken off of the vice suspect list. DJ Hottflash refuses to take a tip for playing the obscure Swedish band, The Knife. She doesn't accept tips, especially since people can't pay for gas. She's taken off of the list. For now.
12:15-12:30 a.m. - Still no dancing.
12:30-1 a.m. - That light show on the floor is mesmerizing. Snap out of it, damnit! They want you off of your game!
1 a.m. - Forget it, you admit that there's no foreign conspiracy here. In fact, there's almost nothing here. You gussy up the courage to go interrogate club owners Godfather Retrospectacular and Bobby Analogue. They refuse to have their quotes identified individually. Something a little funny about these two. This is the official transcript:
So why have this on Thursdays? Thursday is after Wednesday. It's a natural progression; like being Wet From Birth.
How would you describe the ''electroclash'' sound? It's like being licked by a robot with sexy results. It's enough to make you faint; spectacularly retro grooves. It's not for anyone under 17. We like it if you're 21. There's a certain analogue feeling to all the music we play.
What type of vice happens on ''Vice Thursdays?'' Any vice is welcome. Seriously, whatever you're addicted to. Chuck Palahnuk novels aside, we accept all survivors in our little club.
They seemed to be speaking in some sort of strange street slang; could be code for something nefarious. Better leave while you still can.