As close readers of STLog might already be aware, Unreal is fortunate to have access to a beer vending machine, which resides in an advertising staff conference room at Riverfront Times Command Central.
www.pcwize.com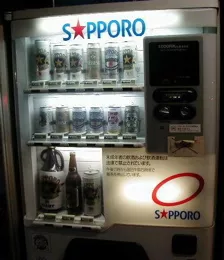 Got a yen for a beer?
As much as we delight in pushing a button and watching a cold one roll down the chute, we realize the machine is just a glorified mini-fridge, a rec-room novelty. But recently we heard a rumor that conjured a fantastic image: One day soon, people will be able to walk up to a sidewalk vending machine, pump in a fistful of quarters (or more likely bills) push a button and walk away with a frosty two-by-four.
According to our source, St. Louis-based CoinCo, which makes the devices that accept coins and bills for all sorts of vending machines, is hard at work on this revolutionary concept. But how would a machine comply with that pesky drinking-age requirement? Our source says the latest vending technology involves a scanner that reads the magnetic strips on the backs of driver's licenses.
Unreal immediately went to CoinCo's Web site, which revealed...nothing. Then we placed a call to the firm's marketing dude, David Duncan. The conversation was a little circular, but the concept of beer vending was not at all foreign to Duncan, who said, "I can't talk about new product development."
OK, sez Unreal, we get it. If CoinCo were going to work on a beer machine, would that be available in the United States?
Duncan: "There's a lot of different markets where beer vending is sold."
Hmm. Now that Unreal has stepped off our sudsy cloud, we're thinking this has to be for Japan, where machines dispense everything from underwear to noodles. We also done did some Googling, which turned up several mentions of beer vending in the Land of the 24-hour Sapporo.
When we mention Japan to Duncan, he notes that many of the machines there have been removed because of a lack of age verification.
Guess that would explain this video featuring a small child: