Not totally satisfied with your weekend itinerary? Never fear, Go! is here! This regular feature highlights everything from rock shows to art openings, from delicious dishes to hidden-gem hangouts.
Friday, 7/4
So Long Levee!: Floodwaters can't hold us from having some good, sweaty (and likely wet) fun this Fourth of July. Find out more about Live OFF the Levee & Kazoofest right here.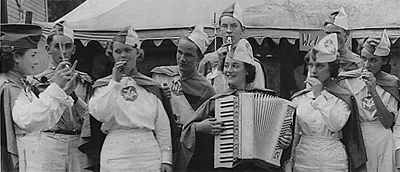 Knight Rider: Throughout comic history, Batman has driven the sleekest, most badass rides. Check out his latest speed machine at Wehrenberg Ronnie's 20 Cine (5320 South Lindbergh Road; 314-822-2463), where vehicles from the new Batman installment, The Dark Knight, will be on display. From 3 to 4:45 p.m., see the Batpod and Bat Bunker up close, and remember to bring a camera along for a snapshot. Then you can play it off that it's really your Bat mobile…or something.
Sound The Trumpet: There's nothing quite like a free concert that's nowhere near the downtown fair madness. Summer concert series Music Under the Stars at Florissant Valley Park at James J. Eagan Center (Parker Road and Waterford Drive, Florissant) kicks off at 7:30 p.m. Northwinds Concert Band will play Broadway show tunes and other holiday favorites along with special guest vocalists. Hang around after the concert for a free fireworks display. For more information, call 314-921-5678.
Saturday, 7/5
Meet Your Match: Are you ready for some Gaelic football? Find Gaelic football demonstrations, hurling and camogie today in Buder Park. Let Paul Friswold give you the lowdown.
The 'Works: View Fair St. Louis' fireworks on a higher ground--from the top of the tallest building in the city. From 7 to 11:30 p.m., party on the 42nd floor of the Metropolitan Square Building (1 Metropolitan Square) with music by DJ Big D. Tickets are $6 in advance here or $10 for ladies, $15 for gentlemen at the door. It includes admission to The Pepper Lounge after-party until 12:30 p.m.
Generation Kill Party: The movie version of Evan Wright's book, Generation Kill, premieres as an HBO miniseries July 13. St. Louis native Eric Nenninger is known as "Cpt. America" in the upcoming series. The Gramophone (4243 Manchester Avenue; 314-531-5700) is hosting a party for Nenninger's recent round of acting success. Starting at 9 p.m., DJ Crucial will provide the tracks, and if you bring an old cell phone to donate to Cell Phones for Soldiers, you'll get a free Jack Daniels cocktail.
Sunday, 7/6
When Nature Calls: Travel about an hour outside of St. Louis to Montauk State Park (near MO-119 & CR-666, Salem) for a day filled with music and crafts. The annual Sunday at Montauk features crafters showing off goods and skills and musical entertainment including folk, bluegrass, fiddle, country and much more. Don't forget your dancing shoes: a large wooden platform will be set up for you to get your square dance on. For more information, call 573-548-2201.
Scare Beyond Compare: The kaboom of fireworks used to freak you out as a kid. What still gets to you as an adult? Certainly the ghosts of Alton, Illinois' McPike Mansion will give you the creeps. Ms. Day lets you in on this day or night ghoulish adventure.
The Price Is Right: You've heard late-night infomercials slash prices or break it down into three easy payments of $9.99. Well, one of the best restaurants around town, Harvest (1059 South Big Bend Boulevard; 314-645-3522), is doing the same thing--only this is actually a steal! Through July 6, receive any entrée for just one easy payment of $17.76. How patriotic! How thoughtful! How delicious! For details, check out the menu or make a reservation. Restaurant hours today are from 5 to 9 p.m.