Happy Friday, everyone. And since it's Friday, you know what that means. It's time again for our Baseball Card of the Week feature here on The Rundown.
Today's card comes to us from Mr. Alex Fritz of St. Louis.
It is a 1989 Topps Card featuring one of my personal least favorite players to ever don the Birds on the Bat, Tom Brunansky.
I'll bet that a whole bunch of other people forgot that Mr. Brunansky even played for the Cardinals, and this whole baseball card thing is about nothing if not strolling down memory lane.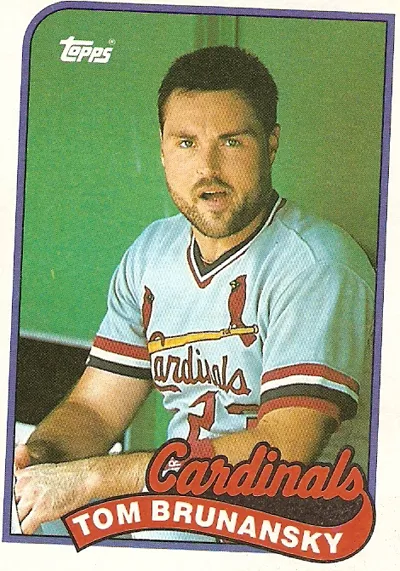 Brunansky came to the Redbirds from the defending World Champion Minnesota Twins in a trade early in the 1988 season. The Cardinals, having been beaten by the Twins the year before, were looking for a power bat to try and up their offense.
Who better, then, than one of the power bats that had helped to ruin their chance at another World Series victory? Brunansky was coming off quite possibly the best season of his career, a 1987 campaign in which he slugged .489 and hit 32 home runs.
Unfortunately, the change in teams, and leagues, didn't agree with Brunansky, who struggled to make contact and saw his power seriously drop in the airy confines of Busch Stadium. He only hit 42 home runs total in the 1988 and 1989 seasons for El Birdos, a pretty significant drop off. When he got off to a slow start in 1990, the Cardinals had seen enough, and sent him off to the Boston Red Sox in a May trade.
Brunansky had a few more productive seasons back in the American League, retiring in 1994, but what I'll always remember about him was just how ecstatic I was when the Cards got him after he tore them up in the previous fall classic. Unfortunately, I also remember just how disappointed I was in the player he became once he was here. The Cards seemed to have a run of players in the late '80s and early '90s who were great elsewhere, then came to St. Louis and stunk it up.
Guys like Brunansky, Pedro Guerrero, Juan Agosto, (one of my favorite relievers ever when he was with Houston) and possibly the most egregious offender, Andres Gallaraga. I suppose even the best organizations go through times when it just flat out doesn't work, no matter what they try.
Keep sending those cards in. E-mail me at asaeschafer@gmail.com.
We're sorry this installment of Card of the Week comes late in the day, blame the mysterious of the Internet for an e-mail that was sent at 7 a.m. but arrived at 3:30 p.m.