Update: STL Today's gossip guru Deb Peterson followed this story in a June 28 column that referred to the Laurie matrimony as a "wing-ding doozy of a wedding." Good ol' Deb. She's never at a loss when it comes to fashioning new terms for nuptials. But we gotta say, what's up with Deb labeling the wedding as a rumor? Or is that just how she covers her ass when she gets scooped?
This celebrity news item comes a bit late, but what can I say? I wasn't on the invite list.
www.jamd.com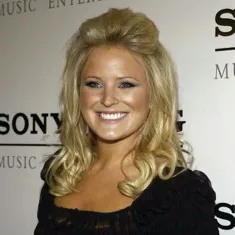 The infamous Paige Laurie tied the knot June 14.
The infamous Paige Laurie tied the knot June 14.
Word is that Missouri's most eligible bachelorette,
Wal-Mart
heiress
Paige Laurie
, got hitched earlier this month in a secretive wedding in her hometown of Columbia. I heard about the event only yesterday when a woman who worked the wedding absentmindedly told me about the soirée -- and then begged me not to repeat the news. Like everyone who worked the wedding, my source was forced to sign a confidentiality agreement promising she would not discuss the nuptials. The pact has apparently worked well, as I can't find a single news article about the ceremony on
Google
or
LexisNexis
.
Why all the secrecy? My guess is that Laurie's billionaire parents, Bill and Nancy Laurie, are still reeling from the 2004 cheating scandal involving their only child.
As you may recall, Laurie's former roommate at the University of Southern California told ABC's 20/20 in 2004 that Laurie paid her more than $20,000 over three years to do her schoolwork. The story also gave the University of Missouri a black eye. Earlier in '04 the school christened its new basketball venue the Paige Sports Arena after Laurie's parents donated $25 million toward the construction of the building and named the structure after their daughter.
The university subsequently renamed the building Mizzou Arena. In 2005, Laurie voluntarily returned her degree to USC.
I can't say for certain where in Columbia the wedding took place, but at least one blogger complains that he was awakened by fireworks from the June 14 event. Another Internet posting reveals that the couple -- Paige and Patrick "Bo" Dubbert -- registered for all kinds of tableware at a Columbia jewelry and gift store. Paige would be about 26 today. Depending on how much faith you have in classmates.com, Dubbert graduated from Jefferson City's Helias High School in 2000, making him more or less the same age as his bride. Dubbert's parents, Marsha and Pat Dubbert, still live in Jeff City, where the senior Patrick Dubbert is chief executive of the masonry and landscaping firm Midwest Products Group.
Paige's mother, Nancy, is the daughter of the late James "Bud" Walton, who founded Wal-Mart in 1962 with his brother Sam Walton. According to Forbes magazine, Nancy Laurie is worth $2.2 billion.
Not having any wedding announcement is one thing. But with that kind of scratch lying around, let's hope the reception didn't have a cash bar.