Alderman Craig Schmid (Ward 20) this week presented an amended draft of his liquor control ordinance to members of the Cherokee Station Business Association. Last month Schmid drew the ire of many Cherokee Street business owners when he introduced a bill to the Board of Aldermen that would greatly restrict any new bars or restaurants from selling alcohol in his south city district.
cherokeestreetphotos.org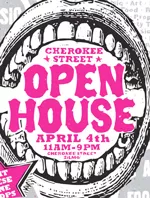 Cherokee Street
Following a contentious May 15 meeting with the business association, Schmid agreed to table the ordinance for 90 days to ''review concerns'' about the bill. On Tuesday, June 17, the alderman again met with the business association to reveal an amended draft that differs slightly from the original legislation.
Under the current draft version, for example, new liquor license holders would no longer be required to install video cameras outside their establishments allowing Schmid to view the business 24/7 via the Internet. Instead, business owners would be required to install the cameras only if the city's public safety director considers their properties to be a public nuisance.
The amended bill leaves in for now the most controversial provision: requiring that new bars earn at least 35 percent of their revenue through food sales in order to receive a liquor license. Bar owners say the quota is nearly impossible to reach with many taverns earning less than 20 percent of their revenue through food sales.
The bill also adds language requiring that all windows must ''be un-obscured at all times for viewing into the interior'' except ''during periods of direct sunlight.''
Will Liebermann, treasurer of the business association, says that 21 of the 38 people at Tuesday's meeting who live or own property in the 20th Ward voted against having any alcohol restrictions for new business. A dozen people voted in favor of some form of liquor moratorium.
Liebermann remains optimistic that more changes will be made to the final bill. ''It was a good meeting,'' he says. ''I think it's clear that even the alderman doesn't want the bill as it currently stands.''
The draft ordinance was slated for further discussion Thursday night during a meeting of the Benton Park West Neighborhood Association.