What: A signing for David Sedaris' new book, When You Are Engulfed In Flames Where: Left Bank Books, 399 N. Euclid Avenue, in the Central West End Who: David Sedaris, novelist, humor writer, NPR sweetheart and lispy American expatriate, now living in France with his longtime boyfriend. Better than: A brainy, funny friend telling you his best stories.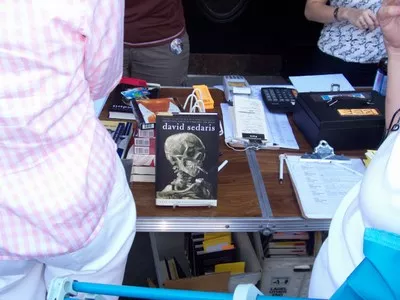 Last night in Left Bank books, nationally renowned author, humorist, playwright, National Public Radio regular and American expatriate David Sedaris read stories from his new book When You Are Engulfed In Flames and signed books until well after midnight before leaving for Louisiana on a 30-city book tour.
The event was slated to begin at 7 p.m., but Mr. Sedaris began signing books at 6 p.m. and seemed eager to do so. That's because when he signed the books, it wasn't your usual signature, quick handshake and goodbye. No, he took his time with each fan, drawing Abe Lincoln sketches and trying to break down that nervous wall between celebrity and fan with an off-the-cuff bon mot about a cat named Steve or his favorite German word (it's kaisershnitt, by the way, and it means a Caesarian Section).
He encouraged fans to talk about themselves, which provided laughs for him as well. When a woman in a wheelchair woman approached, she told him that her foot injury is from a ''quadruple bunionectomy.'' Sedaris laughed, throwing his head back, ''I didn't think I'd hear the word 'bunionectomy' today!''
The genuine joy of that statement gives a strong case for why Sedaris is so highly regarded. Like the best stand-up comedians, he seems to take life's oddities and make light of them.
And likely Sedaris would find funny the broad cross-section of people that came to see him. Hipsters in too-cute t-shirts mixed with sunburned bald dudes repping the Cardinals, suburban book-club moms and bespectacled proto-nerds in polo shirts – a wide array of Sedaris fans.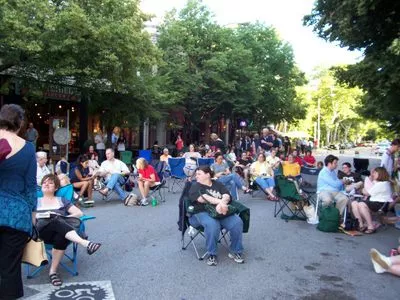 The outdoor crowd at roughly 6:35 p.m.
The outdoor crowd at roughly 6:35 p.m.
It was estimated that a record 350 people showed up for the reading and the signing. Only 150 tickets were sold for the event, which enabled those people to sit (or stand, as the seats went fast) inside the bookstore while David spoke. The rest set up their portable camping chairs or grabbed a curb. They formed a wide arc around the two PA speakers on the sidewalk and on Euclid Avenue and listened.
David read some sections from his new book, followed by some excerpts from his diary, something, he said later, that sometimes becomes source material for an essay, adding ''but it's mostly crap.'' A quickie Q & A followed and then the signing marathon began in earnest.
Sedaris remained at the signing table, eating dinner and chatting with signees about his stay in Japan, stories from the book and whatever else came to his mind. Nearly everyone thanked him for coming to the Midwest, as it had been almost two years since his last performance/signing at the Fabulous Fox Theatre.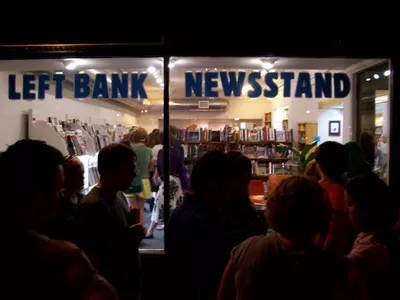 Barry Leibman, Danielle Borsch, Erin Quick, David Sedaris Kris Kleindienst and Jarek Steele (roughly 12:20 a.m.)
And on it went, well past Left Bank's normal closing time of 10 p.m. At half-past midnight, he reached the end of the signature-seekers and had a chance to answer some questions about the tour and about himself.
On the subject of St. Louis, Sedaris was at a loss, saying that due to the hectic schedule of book tours, ''I generally don't get to see anything. I go from the hotel to the radio [KWMU, St. Louis' NPR affiliate] to a room where I do phone interviews and then I have a half-hour to get ready to get here by 5...''
The other half of Sedaris' day is spent signing and chatting. The night before, in Kansas City, he had stayed until 2 a.m. making sure everyone was attended to.
Barry Leibman, Danielle Borsch, Erin Quick, David Sedaris Kris Kleindienst and Jarek Steele (roughly 12:20 a.m.)
Barry Leibman, Danielle Borsch, Erin Quick, David Sedaris Kris Kleindienst and Jarek Steele (roughly 12:20 a.m.)
Despite not seeing the cities where he speaks, he says he has a lot of great little jokes, phrases and stories collected from the fans on the tour, which he keeps in a record of in a small pocket notepad, tucked in his shirt pocket. ''I never thought,'' he says, recalling a conversation hours old, ''that I'd hear the word bunionectomy today''