So, where do we go from here? (Vote on your changes here).
Memorial Day has come and gone. The first real holiday of summer always provides a nice opportunity to look around and take stock of a baseball team; to assess the strengths, weaknesses, and everything in between. So, what have we learned so far?
The Cardinals currently find themselves sitting at 30-21, nine games over .500, and half a game behind the Cubs in the National League Central. I freely admit, this is absolutely shocking to me. At the beginning of the season, I looked at this crew and I predicted around a .500 finish, maybe a little worse, and probably third place in the division, behind both Chicago and Milwaukee. For the record, I saw the division finishing up like this:
Chicago Milwaukee (winning the Wild Card) St. Louis Cincinnati Houston Pittsburgh
Goes to show what I know, I suppose. This Cardinal team is much better than I gave it credit for, even if I still don't think it's quite good enough to take the division, at least not as currently constituted. I still don't think Houston is for real, either, though they are better than I expected. I just don't see their pitching keeping them in it.
Really, the biggest surprise of the season on this team has to be the starting rotation. I expected that the team would put up some really good run totals, due to the thunder in the middle of the lineup, but struggle to keep opponents from just scoring at will. So far, it's been almost the exact opposite scenario, with the thunder not really being there, (Third-baseman Troy Glaus has hit more than 30 home runs six times in his career; he currently has two homers) but the pitching and defense have kept this team on track, winning games and hanging around the top of the division.
The bullpen was supposed to be the strongest part of the team. After being probably the only really good part of the 2007 squad, I thought the bullpen would hold the leads it was given, though there probably wouldn't be very many of them. This, too, has proven to be almost completely wrong, as the relief corps has been very shaky.
Jason Isringhausen, The Closer, is out with, um, oh yeah! He cut his hand. Yeah, that's what happened.
The primary setup position has been solid once again, though when you really look, that spot still seems to be getting the job done almost entirely with smoke and mirrors. The left-handers have struggled at times, Russ Springer has been on the disabled list, and Anthony Reyes has once again been banished to the hinterlands.
Kyle McClellan has impressed, of course, and Chris Perez looks like he could be the real deal, but it's awfully soon to start making those kinds of pronouncements. Overall, the Cards' bullpen has cost the team probably another four or five games in the standings, assuming a normal number of blown opportunities.
So, that's where we stand. Pitching, good. Offense, good approach, varied results. Bullpen, rough start.
The more important consideration, though, should be what needs to happen from here on out.
mlb.com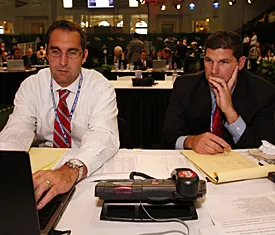 Nick Lucchesi
The Cardinals (pictured from left, catcher Yadier Molina, pitcher Adam Wainwright and pitching coach Dave Duncan) have amassed a 30-21 record since Opening Day. Despite the good play so far, this is still a team in transition.
Mozeliak, shown here at the winter meetings, may now face a tougher challenge in balancing his team's success with the need to focus on the future.
This was supposed to be a transition year. A year to get some young players time on the field and see what they can do. A year to lay the groundwork for a great team in the next year or two. However, this team is just good enough that the ''transition year'' theme going to be a tough to maintain. Above all, though,
General Manager John Mozeliak
and co. need to avoid overreacting to the hot start and leaping into ''win-now-at-all-costs'' mode. This is still a team in transition; it just happens to be one further along than we all thought.
First priority from here on out needs to be turning at least one of the club's outfielders into a middle infielder. No, not switching positions, but trading one of them. Manager Tony La Russa is struggling to find playing time for the five outfielders he already has. Down at AAA Memphis, Joe Mather is absolutely destroying the ball, and looks as if he's probably ready to help the big club. Colby Rasmus has struggled badly to begin the season, but he'll be in the bigs before the season is out, mark my words. He has too much talent, and too much drive, to stay down for long. That gives the Cardinals seven outfield candidates for five spots; something has got to give.
The Cards need to trade at least one, and possibly two, of their current outfielders. I can't imagine they'll move Rick Ankiel, you can't move Brian Barton without a ton of machinations, and there's no way you try to move Ryan Ludwick. That leaves Skip Schumaker and Chris Duncan. GM Mo' needs to move at least one of them, and you know which one I would prefer (Dunc'), and bring in a candidate to shore up the middle infield. One with a bat, preferably. That's job Number 1.
Second, the Cards need to finish pruning the last of the deadwood from the Walt Jocketty era. Adam Kennedy just isn't coming back, folks. I have no idea what happened to the guy, but he has just fallen off a cliff. Even earlier in the year, when his average was up, he was still just rolling over the ball and hitting grounders to the right side. More of them just happened to be getting through. Kennedy still has a pretty decent glove, but this team simply has too many middle infielders to continue carrying Kennedy. The team needs to bite the bullet, eat the money, and move Kennedy on his way. He'll find a team to take him on as a utility guy somewhere else.
Nick Lucchesi
The Cardinals (pictured from left, catcher Yadier Molina, pitcher Adam Wainwright and pitching coach Dave Duncan) have amassed a 30-21 record since Opening Day. Despite the good play so far, this is still a team in transition.
The Cardinals (pictured from left, catcher Yadier Molina, pitcher Adam Wainwright and pitching coach Dave Duncan) have amassed a 30-21 record since Opening Day. Despite the good play so far, this is still a team in transition.
Third, the Cardinals need to figure out which of their starters should be put on the trading block.
Chris Carpenter is expected back
right around the All-Star break; even if he's not back by then, there are a couple of pitchers at the Triple A level that are probably ready to get at least an audition in the major leagues.
Braden Looper, Kyle Lohse, or Joel Pineiro needs to be dealt. Not in the next week or two, but by about the end of June. Personally, I think it will end up being either Looper or Lohse, as neither are signed for next season.
The team needs to figure out exactly what's going to happen with Jason Isringhausen. If Izzy can come back and be effective for the rest of this year, that's fantastic. Let him close, get to 300 saves, and everybody's happy. If he's not going to be able to do that, though, then the Cardinals really need to consider what their reliever's roles are going to be long term. Either way, Izzy should still be a part of the team, but how big a role he's going to have is yet to be determined.
Perez and McClellan are the future of this bullpen right now. Both need to be with the team the rest of the year, come hell or high water. As much as I like Parisi, he probably needs to be the one to go down when Izzy comes back. The other two youngsters absolutely need to be with the big club from here on out. They're too big a part of the team's future not to be.
Speaking of pitchers, Anthony Reyes and Brad Thompson both need to be traded. Reyes simply isn't going to have a big league career in this city, no matter how much some people, (myself included) don't like it. Thompson has some value, because of his versatility, but there are other pitchers who can do what he does. Parisi, for instance, brings basically the same skill set as Thompson, but with better stuff. Move Brad to a team that needs that swing man/long reliever type guy, and move Reyes to wherever you can. The Cardinals finally have some real pitching depth to draw on. Use it.
So, what exactly do we have here? The team needs: to move two outfielders, one starter, a second baseman, and two pitchers currently in the minor leagues.
The return is a young, top-flight middle infield prospect. Outside of that, there's pretty good depth in the organization already. Another young starting pitching prospect would be my other target, simply because you can never really have too many pitchers. I know that goes against what I said above about Reyes and Thompson, but that's different. Those guys simply don't have roles on this team. I'm talking about a prospect who has a chance to really develop into something good.
What absolutely must be avoided is getting all excited by this early success, and going ''all in,'' trading away youth for an immediate fix to stay in contention. Despite the good play so far, this is still a team in transition. What they end up doing this season needs to remain secondary to building the proper foundation for future clubs to stand on. There was a plan going into this season, and the Cardinals' new General Manager executed that plan very well. Now let's see just how disciplined he is, just how well he can stick with the plan, even when it's tempting to abandon it.
Be strong, Mo. Patience. Rome wasn't built in a day, and neither is a championship ball club.