A couple thousand dogs and their owners took to Forest Park Saturday for the 16th annual Bark in the Park festival and fundraiser, designed to raise money for veterinary care for neglected animals.
Freelance videographer Anastasia Folorunso was at the day-long festival and in addition to taking down some of the wackiest dog names out there, she shot photos and video.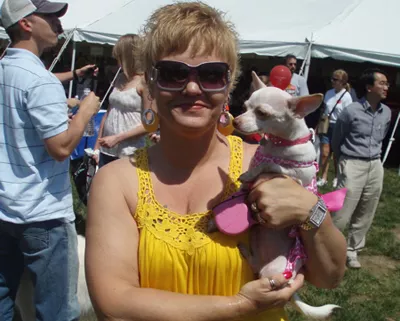 Slide Show
In the video below, Folorunso talks with Tony Ward, owner Rory, his "Incredible Dog."
Rory, formerly a neglected Australian Shepherd, is now is a "world champion" at catching flying discs. Check out the stunts and a video interview with Ward below.
"Any dog has that capability of being an incredible dog if you give it the right love, proper training and good nutrition."
Folorunso also spoke with Kathy Warnick, president of the Humane Society of Missouri and Long Meadow Rescue Ranch.
"We have over 3,000 dogs and their humans joining us," says Kathy Warnick