Matt Neustadt, the star of the CW reality dating show Farmer Wants a Wife, is a farmer. No really, he is. Not an actor, or even an aspiring actor (waiter). Despite the debates going on among the Farmer fans on the CW network's online message boards, the Portage des Sioux-based farmer plants and harvests crops like corn, wheat and soy beans.
Tiny Portage, a name shortened by most of the town's little more than 300 residents, is just across the Mississippi River from Alton, Illinois in St. Charles County. It's the setting of the reality TV dating show, which originally was launched in England.
Courtesy the CW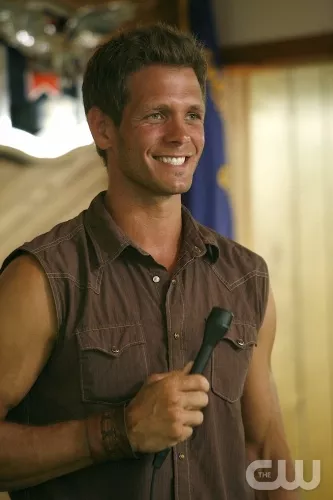 Courtesy the CW
The contestants really try to figure out this tractor.
Neustadt
Neustadt and his friends filled out online applications to be contestants on The Bachelor two years ago. He said he never thought about it again. But his application was kept in a file, maybe one titled "hot farmers who could be on another show." The producers called Neustadt repeatedly.
"They were choosing farmers from all over the U.S.," he said. "My reaction was I thought it was a joke. Then they kept calling and and flew us out to L.A. Me and five other farmers."
He was chosen as the farmer. Nearly a year later, the initial eight-episode run is on-air.
The two episodes of Farmer thus far feel more like the comedy of The 5th Wheel and The Simple Life than The Bachelor. Overly dramatic dating shows are so 2003, right?
Courtesy the CW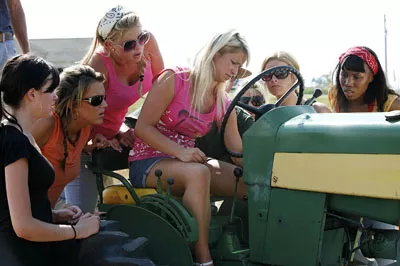 The contestants really try to figure out this tractor.
The contestants really try to figure out this tractor.
The tanned, handsome Neustadt runs his potential wives (city slicker babes, naturally) through agricultural challenges reminiscent of Son In Law. The group of potential wives will whittled down like a block of cedar until one lady remains. You know the deal.
Farmer was filmed last summer at a postcard-inspiring farm house in Portage – and though it's not Neustadt's actual house – the set was only a few miles away from his permanent residence in West Alton. Debates continue on whether this is "rural Missouri" or not.
Although Neustadt, a graduate of Orchard Farm High School, works a lot this time of year (planting season began April 1) he came in from the fields for quick conversation with the RFT.
...And no, the grain farmer doesn't raise barnyard animals, but bringing in the pigs and cows for the show's challenges makes for damn good TV. Are there any reality show purists even left these days? Calm down people.
Here's what the good-looking farmer had to say:
RFT: What was the local reaction to the show when the Hollywood production staff rolled into town last summer? Neustadt: Locally, in the beginning, during filming, people were frightened. Country folks and farmers haven't been portrayed well in the media at any point in time; Green Acres, Beverly Hill Billies, whatever, so rightfully people were skeptical. As of now, I think they are enjoying the crap out of (the show), man. They get to see their friends' and families' homes.
So you're a lonely farmer on the show, what do you do for fun when you're not farmin'? I go to Parties at the Plaza, Alton block parties, I don't do the club scene any more at my age. Most of my friends are married and on their first kid, and it's hard to find people to do much with. In the winter we pretty much stay in. But we live on the river in the summer. Everybody does. We go to Grafton (Illinois), the Loading Dock (restaurant) and the wineries.
Do you make it to St. Louis often? Not as much as I used to when i was younger. I would go downtown in college, but I went away to college (University of Central Missouri) for four years and when I came back it was a culture shock. It's pretty lonely out here.
Naturally St. Louis was the top ratings market for Farmer. With all those people watching, have you been recognized much at the grocery store? What does a farmer do with all new attention? It's just staring to happen. It happened yesterday, I was recognized six times. Once by the person behind the counter. He's like, "Matt?" I'm like, "yeah?" I got a couple of hugs yesterday too.
Have you felt any reality show backlash from the way the editing and production was done? You have no idea what you're getting into. You definitely worry and you never know with editing, but i knew if i didn't do it on TV or say it, they couldn't make me do it. If you don't cuss on TV, they can't put a cuss word in your mouth.
Good Point. So do you live alone these days? I have a special someone and I would have to ask you to watch the show.
Have you ever dispelled any Internet rumors about the show? It's very tempting because people fill message boards with negative things. I have no desire to be mean, I just want to clear things up. A big part of me doing this was showing that we're not redneck hillbillies.
Have you had any offers of endorsements or requests to make appearances, on the heels of your newly acquired fame? I'm still waiting. You can tell John Deere to fire one off right now.
Farmer is on CW-TV (Channel 11) at 8 p.m. on Wednesdays.