"In San Francisco, you can landmark a 'historic tree' -- but no one has ever thought to designate a historic bush."
mobot.org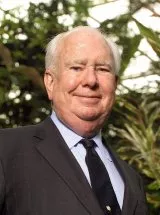 Peter Raven
Those are the words of
SF Weekly
writer Joe Eskenazi, about the
Raven's manzanita
, a
very
rare plant on the outskirts of San Francisco discovered by a 14-year-old boy in 1951. That boy?
Peter Raven
, now 71, and the director of the
Missouri Botanical Garden
in St. Louis.
The little shrub has caused a debate in the Bay Area: whether to fell thousands of non-native trees planted there by the some of the city's earliest residents in order to save the natural plant, or to allow the trees to stand and likely sacrifice the plant.
Eskenazi continues, "So, if the last Raven's manzanita falls in the forest, would San Franciscans make a noise?"
Raven keeps a busy schedule in St. Louis -- with adjunct teaching positions at the University of Missouri-St. Louis and at Saint Louis University -- as Eskenazi learned:
"Securing a 20-minute phone interview with Raven, now the director of the Missouri Botanical Garden in St. Louis, required more than a dozen phone calls and e-mails to several assistants -- and the minute the 71-year-old hung up the phone, he hopped a flight to Israel for a members-only botanical garden tour of the herbage of the Holy Land."
The rare plant, seemingly doomed to extinction owing to the difficulty it has reproducing, has weathered challenges both natural (fungus) and mechanical.
Writes Eskenazi:
"In 1958, oblivious Army landscapers undertaking a construction project halted their bulldozers only 20 yards from the manzanita. Thirty years later, a crew of Army lumberjacks felling large pines shading the mother plant nearly landed a tree on it. In rainy years, the plant develops a fungal infection called black smut that often kills 40 percent of its leaves and branches. And, in 1999 and 2000, it was swarmed by hordes of ravenous insects."
The crux of the debate in the Bay Area is weather to cut down trees planted more than 200 years ago in order to save the plant.
"So many great old trees, which are good for the environment, are being sacrificed for some arbitrary aesthetic and historical goal," says Bill Henslin, co-founder of the antidevelopment group Friends of the Presidio National Park.
The SF Weekly is a sister publication of Riverfront Times; both are owned by Village Voice Media Corp.