This week's cover story by Keegan Hamilton, Birds of a Feather: The strange and violent world of St. Louis bail bondsmen, explores the cutthroat world of bail bonding in St. Louis, where convicted felons can become bondsmen and help suspects emancipate themselves. But it's never a get-out-jail-free situation.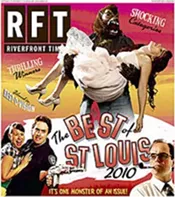 While bail bonding in Illinois has been illegal for more than three decades, in Missouri it is a flourishing business. Below is a map of bail-bonding agency locations in the St. Louis area, including the businesses operated by the players who figure in Hamilton's story.
Click on the blue markers to read the basic Google info about each agency. There are more than 850 bail bonding agents in Missouri.