The San Francisco Giants present a cautionary tale for the Cardinals. What you see in San Fran this season is exactly what happens when a team puts all of its fortunes on the shoulders of one player for far too long.
For the last decade and a half, San Francisco Giants baseball has been the Barry Bonds Show. The entire team has been built around him; around his presence in the middle of the lineup. The organization has routinely traded away young, talented players to field a veteran team ready to win in the present to surround him.
Now, with Bonds gone and the cupboard bare, the Giants find themselves in dire straits, with an over-the-hill lineup and little help in the near future. The Cardinals would do well to take notice; Albert Pujols is an amazing player, but you can't build a team solely around one player, no matter how transcendent. Personally, I'm glad that Bonds is finally gone, as I've been a fan of the Giants since the Will Clark days, and I can go back to rooting for them now that Barry, his giant melon, and his leather recliner have skipped town.
For now, the Giants have one area of real strength: the starting rotation.
At the top of the rotation, they have two dynamic young starters who should anchor the pitching staff for years to come. Matt Cain is the ace of the staff, a young, powerful right hander with unbelievable stuff and excellent command. Cain was the victim of atrocious run support last season, going 7-13 despite an ERA under 4.00 in only his second Major League season. Cain is a huge part of the Giants' future, a true ace pitcher just entering the best years of his career.
After Cain comes Tim Lincecum, a young phenom with, if anything, even better stuff than Cain. Lincecum is undersized, listed at 5'10", but possesses an incredible repertoire. His fastball regularly sits in the mid 90s, topping out at 97 mph. His best pitch may be a hammer curveball with a ridiculously large break that he can throw for a strike or as a chase pitch. He also throws a decent change-up and even a little bit of a slider to keep hitters honest. Lincecum's control isn't up to the standards of what Cain can offer, but he gives the Giants a second dominating mound presence.
Wee Haggis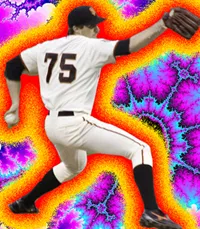 Barry "Captain Quirk" Zito: off-beat guy, hasn't lived up to pitching expectations.
Barry "Captain Quirk" Zito: off-beat guy, hasn't lived up to pitching expectations.
The best known of the Giants' hurlers, of course, is
Barry Zito, the $126 million man
. Zito, after hiring
Scott Boras
to represent him, signed a seven-year deal before the 2007 season, and, so far at least, is providing an excellent example of why you don't sign pitchers to seven year contracts. He's been decent, and has stayed healthy, but when you commit to a pitcher for that long, for that kind of money, he had better be a top of the rotation guy, and Zito isn't.
His eccentricities -- yoga stretches in the outfield, buying his own autographed baseball cards on eBay -- have made him a media favorite
. His 11-13 record in 2007 and a 4.53 ERA have brought down his stock.
The Giants were looking for a face of the franchise type player to replace Bonds; unfortunately, Zito mostly represents a very recognizable albatross more than anything else. A team with such a depleted talent base, in an obvious rebuilding situation, can't afford contract commitments like Zito's. Unfortunately, it's too late to go back now.
Rounding out the back of the rotation are Jonathan Sanchez, a young power lefty with outrageous strikeout numbers, but some remaining rough edges, and Kevin Correia, a solid righty with unspectacular stuff but a solid, steady approach.
The Giants offense is where the biggest problems lie. They have little talent, and what they do have is mostly in decline mode. They haven't done a particularly good job of drafting position players, either, and it could be a while before this team's run-scoring potential improves much. The good news for Giants fans, if there is any, is that ownership isn't afraid to spend money to improve the team, and there is enough pitching still in the pipeline to facilitate trading for some help. Our very own Chris Duncan could make an excellent target for them, as a left handed power bat, particularly one at first base, is one of the Giants' most pressing needs.
The Giants are expected to be one of the doormats of the National League this year, and the Cardinals play seven of their next ten games against this team. If the Cardinals hope to truly contend this year, this is the sort of stretch they need to take full advantage of, before their April run of easy scheduling finishes up. And while they're at it, they should pay attention to what they see on the other side of the diamond. The Giants represent perfectly what happens when a team doesn't know when to take a step back and retool.
For too long, San Francisco has stayed in contending mode, even as their talent base has eroded and the team has fallen on hard times. They now have quite a hole to dig themselves out of; let's hope the Cards don't make the same mistake, and keep it moving in the right direction.