From: Greg Smith Date: January 15, 2008 2:49:57 PM CST To: feedback@riverfronttimes.com Subject: Searching for Saint Louis
Saint Louis, so far:
www.stlouistimeportal.com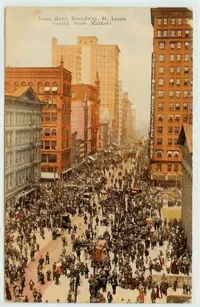 First, I must present a bit of background to give context to the views/opinions/perceptions about to be presented. I do not feign expertise, insight, or even enlightened ignorance in recording these notions, only boredom on a Sunday night and perhaps, one too many Heineken's.
I moved to the Saint Louis area about four months ago from Indiana. Due to "a series of unfortunate events" and fortunate opportunity, I thought it prudent to cast my fate to the gods and follow the setting sun to whatever adventures awaited me in this desolate land called America.
My history includes many travels to many lands around this speck of a planet. Cultured and mundane, to the opulent and impoverished, I have mostly marveled at all humanity has to offer. I have learned to not make judgments, only notes.
Saint Louis would have not been my choice for a place to be. Nothing personal, as I had never been here before, with the exception of once flying in a private plane over the Arch and marveling at the river. However, the city did not present itself as a "must see" destination.
Well, here I am. And I must take account of what I have seen/experienced/felt.
My initial thoughts upon my arrival and subsequent weeks, was to compose a public letter to the fair citizens pleading to answer a question; "WTF?" I don't get it. Somehow, based on historical myth and really good old movies, I felt Saint Louis was the embodiment of the American soul, the place that dreams were begun, the Gateway to some unrealized metaphorical "West".
When Mr. Lindbergh flew off in his flying machine, did he somehow take the Spirit with him? Is the Arch really a symbol of a gateway or is it a handle for the gods to grab in the last moments of Armageddon?
Most cities I have experienced claim and strive for some cohesion of perception: Indianapolis - "Amateur Sport Capital of the World", New Orleans - "Food and Jazz Capital of the World, Paris - "Cultural Mecca of the World". Etc., etc, etc.. Saint Louis - "(fill in the blank) Capital of the world"...
Please, good reader, tell me. I am either blind, ignorant, or too caught up in my own issued to see it. Where is the "Spirit"? Where is the cohesion? What the hell is this town about? I really do wish to know.
I see wonderful neighborhoods, have met interesting people, seen awesome architecture, passable contemporary art, eaten decent food and heard some music. All seems disparate and unconnected to me, and I do not understand why.
That is all for now. I know I must look closer, ask more question, open my perceptions wider. But, damn, I think I need another beer.