Your daily guide to what they're whispering about in the next cubicle.
HERE Gut Check and A to Z go on a four-day holiday hiatus.
Today there are too many thankful local bloggers to count.
Benny recalls a past biggest bar night of the year.
www.local6.com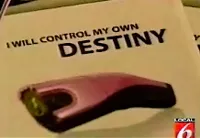 Don't Tase me, girl!
THERE This is so not what the world needs: pink Tasers for the ladies! (Via Neatorama)
Hung over? Gather more ingredients, and keep up with the holiday drinking spirit.
The cutest and cleanest restroom bug.
Got a hundred million burning a hole in your pocket? Think twice.
Buyers be wary: Some Black Friday steals might just be marked-down junk.
EVERYWHERE Happy Thanksgiving! Save a spot at the table for uninvited guests.