Your daily guide to what they're whispering about in the next cubicle.
HERE Although we're proud to be No. 1, we can't shake the burning sensation that comes with it.
Dana Loesch will be a permanent fixture on the radio.
National Blog Posting Month takes a turn for the mentally unstable.
When the cast of Troll 2 invaded the Tivoli in late August, a gaggle of Nilbog-enthusiasts taped the whole thing.
Who shows up at an anime convention and complains about the costume-wearing super geeks in attendance? This guy.
www.shinyshiny.tv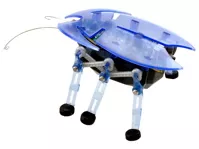 Mohaha, time to take over the world!
Mohaha, time to take over the world!
THERE Robots claim their first victims -- cockroaches.
At ten grains of rice per word, it'll take pure dedication to nourish one starving soul. (Via Downloadsquad)
Boost team spirit with potted plants and employee artwork in the loo? (Via Evil Mad Scientist Laboratories)
Amazon's CEO wants you to put down that paperback and get digital.
Um, is this news to anyone? (Via Ad Freak)
EVERYWHERE St. Louis no longer tops the heavily criticized Most Dangerous list.