Your daily guide to what they're whispering about in the next cubicle.
HERE A first at A to Z: Annie has nothing to say. Yet, she still manages to give us three paragraphs.
On Gut Check, Ian sets his sights on food writer Michael Ruhlman.
Was a Kirkwood woman assaulted by a human or a Dementor?
Hell is where the heart is, baby! Don't let anybody tell you different.
Early-morning phone calls won't wake up this dog.
www.flavorleague.com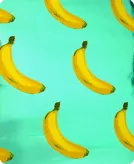 Scratch 'n' sniff wallpaper.
Scratch 'n' sniff wallpaper.
THERE Magnetic nail polish: It's guaranteed to attract something.
Scratch 'n' sniff this fruit bowl-inspired creation. Our favorite? Tutti Frutti! (Via Ad Freak)
Think you're better than spell-check? Try your hand at these words. (Via Baratin-Debordant)
The era of tablet writing hath returned. Moses would be so proud.
Not that we're Sanriophiles, but this is totally classier than any other PDA.
Well, he found her!
EVERYWHERE Update: An eighteen-year-old kills seven eight in Finland's first reported school shooting.
Pick a prez!