Your daily guide to what they're whispering about in the next cubicle.
HERE Annie updates us on what shows are coming to town.
Gut Check takes a wok on the wild side.
www.cityoffederalway.com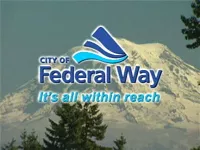 Hmm...haven't we seen this elsewhere?
Hmm...haven't we seen this elsewhere?
Got issues?
Fundra
of the Runaway Showgirls
volunteers to help
.
Busch Entertainment heads to Orlando.
Marie Claire's American Beauty Road Show makes a pit stop in STL.
BTW, St. Louis' new slogan is incredibly….lame.
THERE This is how to make a résumé stand out. (Via Something Awful)
Oh man, wars are pricey. Maybe we should have waited for a sale or something.
According to Microsoft, Facebook really is worth $15 billion. Tech Crunch blogged live from yesterday's press conference.
A Dutch magician levitates near the White House and in Times Square. By golly, how does he do it? (Via Boing Boing)
EVERYWHERE What kind of jerk sets half a state on fire?