Radio station WGNU (920 AM) will abandon its talk-show format and replace it with "urban" gospel. As we first reported in June, the iconic local station was in sales talks with St. Louis-based Radio Property Ventures, owner of Christian talk station KXEN (1010 AM). The $1.25 million sale of the station became effective yesterday afternoon.
Burt Kaufman, principal owner of Radio Property Ventures, says WGNU's format change will take place within the next two to three weeks. None of the weekday shows currently broadcast on the station -- including Lizz Brown's controversial Wake Up Call -- will be retained.
"We're going to play a variety of Christian music," says Kaufman. "Interspersed between the music will be a few Christian programs. In the evening we'll switch to urban gospel and have a call-in show from 7 p.m. to 9 p.m. dedicated to urban issues."
By "urban" Kaufman says the station will target an African-American audience. Rotating hosts will anchor the evening talk show. The station's current general manager, Esther Wright, will retire, effective immediately.
photo: Jennifer Silverberg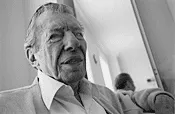 The old Chuckaroo: WGNU patriarch, the late Chuck Norman
The old Chuckaroo: WGNU patriarch, the late Chuck Norman
Founded in 1961 by the late Chuck Norman, talk-heavy WGNU bounced from the AM dial to FM and back to AM during its 46-year run in St. Louis. For a time it was the area's top-rated station. Norman passed away in 2004, leaving ownership of the station to a trust controlled by his attorney, Lisa Krempasky.
For more about Chuck Norman and his legacy, see this Riverfront Times story.
Krempasky, herself the subject of an in-depth investigative story published in Riverfront Times last fall, has been at the center of dozens of lawsuits in recent years accusing her of fraudulently duping investors of millions of dollars in real estate schemes. Property records show that she loaned out multimillion-dollar sums from the Charles Norman Trust to fund real estate transactions. In July her onetime colleague, Doug Hartmann, was indicted on charges of bank and mail fraud.
Meanwhile, former employees of WGNU say Norman left them gifts of $10,000 in his trust. But few -- if any -- of those ex-staffers have seen any money. With the sale of station, it appears Krempasky will once again profit handsomely from her association with Norman and WGNU. FCC documents list the sellers of the station as the Charles Norman Trust and the Estate of Charles Norman, both of which Krempasky serves as sole trustee and representative.