Your daily guide to what they're whispering about in the next cubicle.
photo: temorivera.com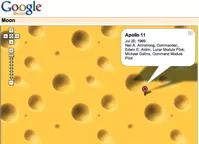 Hey, I was gonna eat that.
Hey, I was gonna eat that.
HERE Paul Friswold still has Macbeth on the brain.
Ian Froeb wonders if 8 p.m. reservations qualify as late in this city.
Christian Schaeffer makes a guest appearance on A to Z to recap the Kilo Riley show in CoMo.
Queen Mediocretia* of Suburbia dispels the myth that she single-handedly destroyed Noah's Ark, that once spectacular recently destroyed St. Charles restaurant.
Open house season is here for many school districts, and Angie at Fluid Pudding gets a bit randy at hers (or at least tries).
THERE Now you can get the closest view ever on Google Moon. Google opted to delete the cheese-zoom feature, even though it was much more fitting. (Via Mashable)
Have a water ring on a wooden surface that you can't get out? It's easy; just mix mayo and cigarette ash??? Sick. Click here for more tips. (Via lifehaker)
It was an honest mix-up.
EVERYWHERE It's probably best for everyone to have a hearty laugh about the political hubbub of the past few weeks (yet still cry on the inside).