For the sake of you, loyal reader, Gut Check didn't sit in our air-conditioned office 24-7. We tried several ways to beat the heat -- and still eat well.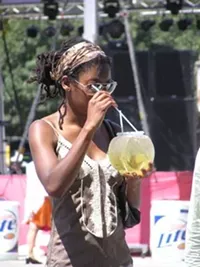 photo: Keegan Hamilton
- We sampled the delicioso fare at the Greater St. Louis Hispanic Festival.
- We celebrated the beginning of Downtown Restaurant Week -- almost everywhere.
- We offered another blog-exclusive restaurant review.
- Our second-favorite story of the summer finally might have reached a conclusion.
Not a loyal Gut Check reader? We saved a spot at the table for you.