There he is, gracing the pages of Esquire magazine with the chiseled good looks of a street fighter cum movie star. No, not Sean Penn, whose tired mug adorns the cover of Esquire's September issue. We're talking about our own Mayor Francis Slay, a photo of whom appears in the magazine's Style Section way back on page 217.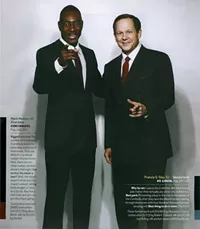 from Esquire
Why Esquire? Why Francis Slay? Well, we now know two things about Slay's recent trip to the U.S. Conference of Mayors in Los Angeles. At some point our mayor and a hundred other blind-folded politicians determined that St. Louis had the finest tasting tap water in the nation. And Slay -- and some three dozen compatriots -- posed for Esquire.
Not your idea of tax dollars well-spent? Well, hey, someone has to put their best face forward while representing our city. And let us be the first to say that Slay looks absolutely dashing in his picture alongside Cincinnati Mayor Mark Mallory.
We've always considered our mayor more of a Men's Wearhouse shopper, but in his photo in Esquire, hizzoner is resplendently bedecked in a three-button wool suit ($4,900) by Domenico Vacca; cotton shirt ($215) by Robert Talbott; and ($118) silk tie by Hickey. (A call to Slay's press liaison, Ed Rhode, was not immediately returned. We can only assume Esquire loaned the mayor the expensive duds.)
And while the Slay's looks could kill, his quotes could have used some air-brushing, especially if his goal was to promote St. Louis. Why did he run for office? "I saw a city in decline," Slay tells the magazine. "We were losing jobs faster than virtually any other city in America."