Over at our music blog, A to Z, Roy Kasten discusses St. Louis mayor Francis Slay's decision to refuse to give Ike Turner an honorary day. Below is an excerpt from the post, which is found in its entirety here.
St. Louis Mayor Francis Slay titled his recent blog entry on the Ike Turner Day affair "Spiked Ike." Apparently "Turner Burner" and "Wife Beater Repeater" were too subtle.
iketurner.com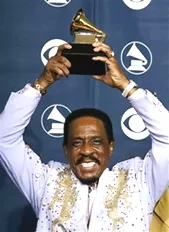 In the blogospheric tradition of "fisking" -- to quote
The Observer
: "savaging an argument and scattering the tattered remnants to the four corners of the internet" -- here's a point-counterpoint critique of Slay's rationalizations for denying Izear Luster Turner Jr. an honorary day in the city whose music he helped put on the map.
Nearly a hundred newspapers across the country (and countless blogs and forums) have picked up a story about my decision not to name an "Ike Turner Day" in the City of St. Louis, when Mr. Turner headlines the annual Big Muddy Blues Festival on Laclede's Landing in September.
Only eighteen words in and Slay offers his first evasion: It's not wholly true that Slay decided against an "Ike Turner Day." The truth is that the Office of the Mayor initially okayed an Ike Day request from the Big Muddy Blues Festival. But not long after Big Muddy executive producer Dawne Massey sent out a press release stating as much, Slay reversed his own office's decision.
In the normal course of events, I probably would have.
But what was abnormal about this course of events? Slay doesn't say. Could it be the knee-jerk reaction of activist groups and others who called and e-mailed the mayor in the hours after the proclamation was made public?
Slay's aide, Cathy Smentkowski, who had green-lighted the proclamation, told me, "Once [the announcement] came out to the forefront, then we started getting calls about it. I was like, 'Oh, apparently this isn't that routine, and I really need to cross my t's and dot my i's."
Based on interviews with Smentkowski and Big Muddy's Massey, the timeline went something like this: Massey made her request in early June and received approval from Smentkowski via e-mail a few days later. On July 17, Massey sent out her press release, and the proclamation was made public. The next day, the mayor's office reversed the decision, forcing Massey to send out a correction to her initial press release.