When I saw the photo of a seemingly beaten-up Aimie Mokwa in today's Post-Dispatch I felt an involuntary twinge of sympathy for Joe Mokwa.
Warren County Sheriff's Dept.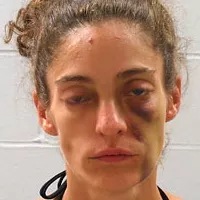 Aimie Mokwa's booking photo
Aimie Mokwa's booking photo
It was not unlike the twinge of sympathy I felt for the St. Louis Metropolitan Police Department head honcho three years ago, when we published a story by then-
RFT
staff writer Bruce Rushton about the SLPD's uncomfortable relationship with the uncomfortable phenomenon of cops who batter their spouses.
Aimie Mokwa had found her way into that story too.
Wrote Rushton:
"Officer James Daniel Goodrich, Mokwa's 33-year-old son-in-law, was arrested two years ago on suspicion of assaulting his wife Aimie Mokwa, the chief's daughter. In petitions for protective orders, the parties have accused each other of physical abuse, death threats and drug abuse.

"Goodrich was arrested for assault in 2002, but the St. Louis Circuit Attorney's Office dropped the charges. In a request for an ex parte order of protection filed this past summer, the 29-year-old Mokwa wrote that her injuries had required hospitalization. On another occasion in June 2003, Mokwa claimed, Goodrich choked her and hit one of the couple's three children. 'He hits me in my head, face, spits in my face, forces me to have sex with him,' Mokwa stated in her petition for a protective order. 'He hits my son in the head, slaps [him] in the face, beats him until he has bruises on him.' Wrote Mokwa of the man she'd married in 1995: 'He said he would kill me.'

"Goodrich himself has twice filed for orders of protection against his wife, the first time shortly after his 2002 arrest. In a second petition for an ex parte order filed this past summer, he alleged that Mokwa had twice tried to shoot him in 2002 -- once on March 8 and again on March 23. Additionally, a police report the Riverfront Times obtained under the state public-records law describes yet another incident on March 15 of that same year, in which Mokwa was charged with illegal discharge of a firearm after firing four rounds from her husband's 9 mm Beretta in the kitchen of the couple's south St. Louis home, while Goodrich was in a bedroom. Associate city counselor David Miller says he gave Mokwa a choice: She could plead guilty to the charge and be placed on probation for a year, or she could plead guilty to a charge of peace disturbance and pay a $200 fine. She chose the latter. Miller says he offered the plea because Mokwa was a first-time offender and there was no evidence she'd aimed at anyone."
The dueling-orders-of-protection theme went on for a while. But there was more:
"In his divorce petition, Goodrich repeats claims that his wife is a drug addict," Rushton wrote.
Aimie Mokwa's attorney disputed that claim, though Rushton's story also includes a description of a 2002 mishap in which she had rammed her Dodge Neon into two parked cars on dry, well-lighted pavement. Police determined the accident, in which Mokwa's Neon flipped and landed on its roof, to "inattention" on the driver's part.