photo: Becca Young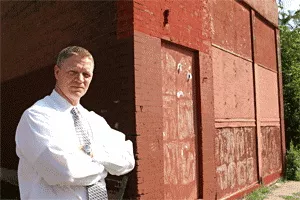 Gary Detmer in front of one of seven dilapitated properties he purchased with the help of Doug Hartmann and Lisa Krempasky. Detmer has sued Krempasky alleging forgery.
Gary Detmer in front of one of seven dilapitated properties he purchased with the help of Doug Hartmann and Lisa Krempasky. Detmer has sued Krempasky alleging forgery.
After an investigation that took more than a year, federal prosecutors today indicted Doug Hartmann on bank- and mail-fraud charges involving a real estate scheme that cost investors millions of dollars and once affected as many as 250 properties in the St. Louis area.
If convicted, Hartmann could face up to 40 years in prison and $500,000 in fines.
Last September Hartmann and his attorney, Lisa Krempasky, were the subject of a Riverfront Times investigation, "Mystery Woman."
Assistant U.S. Attorney Howard Marcus (who is prosecuting the case on behalf of the FBI, U.S Postal Inspection Service, and HUD) would not comment as to whether Krempasky or others might face charges for their involvement in the scheme.
In a press release issued this morning, U.S. Attorney Catherine Hanaway stated, "As alleged in the indictment, when this scheme collapsed, it caused hard money lenders, investors, and purchasers of unfinished properties to lose millions of dollars. This further resulted in a series of foreclosures as well as vacant, abandoned and dilapidated properties causing a blight in South St. Louis neighborhoods."
According to the indictment, Hartmann was engaged in the purchasing, leasing, renovation, development and sales of real estate, and focused on existing properties that were in various stages of neglect or disrepair. Hartmann marketed the projects to associates and investors as redevelopment projects for sales, rental properties or as condominium development projects.
The indictment states that Hartmann was unable to obtain bank loans or conventional financing for his real estate business, forcing him to borrow money from private lenders or so-called hard money lenders, private individuals or groups of individuals that make short-term loans at high interest rates. Hartmann promised hard-money lenders that their loans would be secured by first- or second-position deeds of trust filed with the recorder of deeds. The lenders later typically found that other liens had been filed above them.
Using proceeds from loans, Hartmann would allegedly purchase a distressed property, then sell it at an inflated value to an investor, representing that he would conduct renovations and split the proceeds from the sale of the property with the investor. The proposed investment was based upon Hartmann's representations that he could restore a property at a cost of $30 to $40 per square foot and then resell it for $80 to $100 per square foot.
Hartmann induced investors to secure bank loans to be used for specific properties and specific purposes. According to the indictment, he then drew out millions of dollars in bank funds that were designated for specific construction projects and used them to repay hard-money lenders or investors on other projects. Hartmann rarely generated true profits for his investors through property sales, typically reselling a property within the same circle of investors, always shifting the losses.
Hartmann needed a constant source of fresh funds, so he allegedly used the cash influx from new lenders to pay off the previous ones, and he continued to induce new lenders and investors to provide funds knowing that the funds would only go toward paying old investors and keeping the scheme afloat. The process, which dates back to 2002, collapsed in the fall of 2005.
Douglas Hartmann Productions, L.L.C., and DHP Investments, maintained offices at 3159 Fee Fee Road, Bridgeton, Missouri, and other locations in St. Louis, Missouri. Hartmann also operated or controlled Taylor Supplies, L.L.C., Taylor Design, L.L.C. (Taylor), Comet Management, L.L.C. (Comet), Bricktown Realty (Bricktown), and Job Site Recycling to run his real estate business.
Hartmann, 45, who lists a home address on the 1300 block of Crooked Stick, O'Fallon, Missouri, was charged by a federal grand jury with seven felony counts of bank fraud and two felony counts of mail fraud.