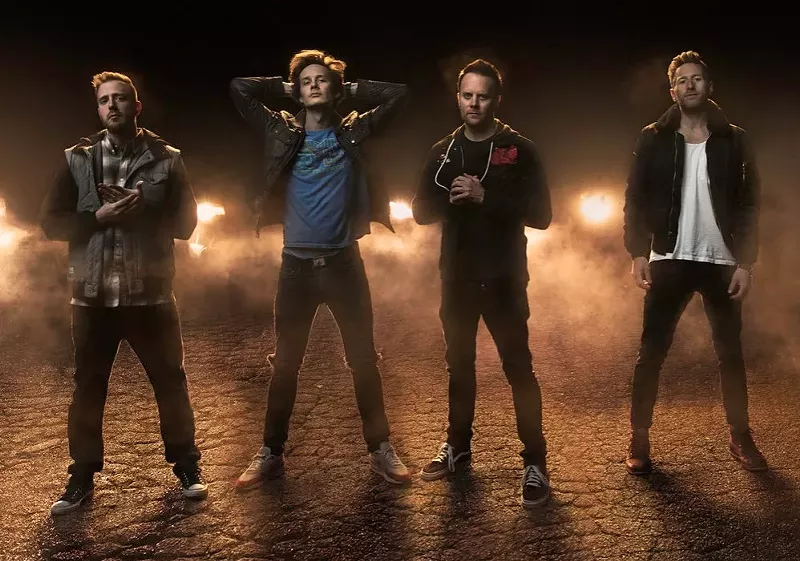 Guitarist Ryan Phillips, on the right in the photo, recently competed for an upcoming episode of American Ninja Warrior.
Fans of pop-punk infected rock music, broadcast television, feats-of-strength competitions, ninjas and/or free concerts, rejoice: Story of the Year is playing a free show at the Firebird this Thursday, to be filmed for an upcoming episode of
American Ninja Warrior
.
The band made the announcement
via its Facebook page
. Guitarist Ryan Phillips recently participated in the long-running NBC-based ninja competition, and the production is sending a film crew to St. Louis to catch some footage for the show.
Phillips posted about his competition experience on
his Instagram page
earlier this week:
So, I'm not allowed to say how my run went, all i can say is the following:

1) I don't think I've ever been more nervous in my life! I would play my guitar butt naked on live TV while people shoot arrows at me and be less nervous than I was today! I've played thousands of concerts all over the world and have never been that nervous!

2) I've watched ANW since episode 1, season 1. I am so incredibly honored that they wanted a goofy, guitar playing dummy like me on this show! INSANELY GRATEFUL x1000. I literally couldn't stop smiling the entire time I ran the course, (I'm positive I looked like a complete idiot!) But it was UNREAL! Thank you, ANW for making a dream come true for me today.
The concert will be a first-come, first-served affair, and there's a chance you might end up on TV, so make sure you're looking good. True to the Firebird's smaller capacity, only 250 people will be let in.
Of course, if you can figure out a way to free-scale the side of the building and infiltrate through the roof, swinging across difficult gaps in an impressive display of athleticism and skill, you can probably just skip that line altogether.
Hell, as long as you're only spotted by the TV crew (and not venue security), you might even get to compete next season! We at
RFT
wish you the best of luck.