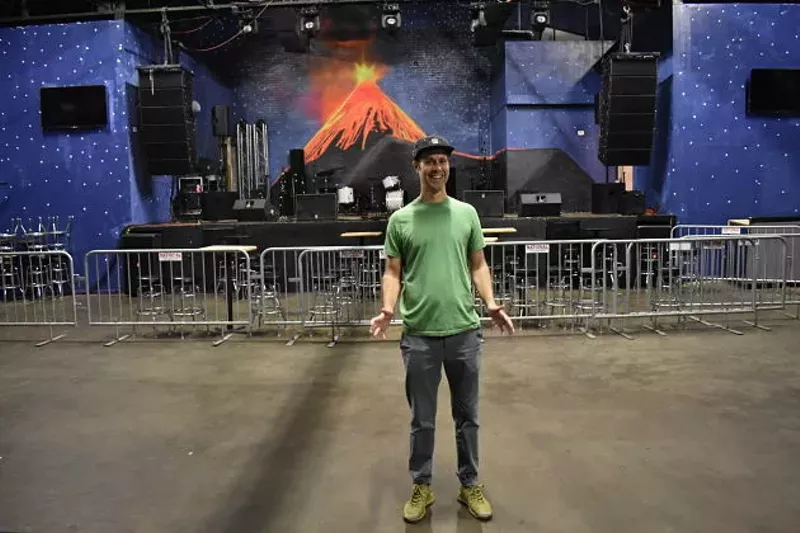 DANIEL HILL
Josh Loyal shows off the huge stage and dancefloor of El Volcan.
When Joshua Grigaitis, better known as Josh Loyal, first stepped foot inside the freshly renovated
El Volcan Nightclub
(4920 Northrup Avenue, 314-241-2005)
, he could scarcely believe his eyes.
Loyal, 41, has lived just a few blocks away from the Hill neighborhood spot for years. He'd driven past it innumerable times, and as the founder of the Loyal Family promotion and events company, he'd even once booked a reggae show there, some fifteen years ago or so. It was the only show he'd done at El Volcan, though, as the experience hadn't been ideal.
So when friend and fellow promoter Clayton Elkins recently asked him what he thought about doing an event there, Loyal's recommendation was tempered. He suggested Elkins poke his head in and see for himself if the space would fit his needs.
Elkins came back stunned by what he saw.
"He was like, 'Dude, that's a pretty cool place. It's pretty big,'" Loyal, 41, recalls. "I was like, 'Yeah it is, probably 500 people.' He's like, 'No, it's way bigger than 500.' I'm like, 'Eh, I mean 500 is pretty packed, probably 300 is more comfortable.' He's like, 'No dude, it's
huge
.'"
Unbeknownst to Loyal, the building, situated between I-44 and a U-Haul store off Kingshighway, had been under new ownership for the last two years, and those owners had also taken over the room next door to the venue's old space. That much, much larger room was previously a two-level with an office upstairs and a factory on the first floor; the owners had gutted the whole thing and transformed it into a massive concert venue with a full lighting and sound system on par with those you'd find at more established, larger venues in town. About six months ago they finally got the building's sprinkler system in place.
When Loyal went to check the space out, he was flabbergasted that it had managed to fly under his radar for so long, despite his living only three blocks away. He estimates it now has a capacity of about 1,600 people.
"It is huge," Loyal says. "There's no other way to say 'huge.' And people still don't really understand what I'm saying when I say 'huge' until you walk in and you're like, 'Wait — this is
huge
.'"
Loyal has been involved in booking shows and running venues in the St. Louis area for decades now. He's best known for his work with Loyal Family and the 2720 Cherokee Performing Arts Center, which he owned for the majority of its run (
it closed last year
). And
his family owns Pop's Blue Moon
, where Loyal first got his sea legs booking musical acts.
He estimates that El Volcan is twice as big as the famously large 2720 space. And on top of everything else, it has a license to sell alcohol until 3 a.m.
"This room holds twice as many people," he says. "It's more Pop's [Nightclub]; it's more Delmar Hall, really."
DANIEL HILL
The venue has an appropriately large bar to match its huge size, with a 3 a.m. license as well.
After seeing the space, Loyal went to speak with the new owners — a Latino family that is apparently press shy. (
RFT
spoke to the father briefly on Friday, but he declined to be interviewed. He suggested his son or daughter might call back, but that never happened.) As it turns out, they'd been using the space to host events catered to St. Louis' Hispanic community since taking it over two years ago. But those shows tend to take place only on the weekends, leaving the building empty most of the time.
Enter Loyal. He and the owners struck up a deal that would allow him to handle weekday bookings while they retain its use for weekend shows — which apparently really pack 'em in.
"I've seen videos of this room with 1,200 people, with giant LED panels on each side of the stage, LEDs up in the top and like a ten-piece mariachi band rocking out and everybody dancing," Loyal says. "There's fourteen moving lights already installed all around the room. So when it's dark and they're blasting, it's like, 'Whoa!'"
For his part, Loyal intends to bring diverse programming to the weekday shows. That should involve electronic music, rock & roll, burlesque, comedy — anything that could be well-served by the space.
DANIEL HILL
This room, next door to the one with the stage, used to serve as the entirety of El Volcan, before its recent renovations.
"You could do probably 500 people seated," he says. "I haven't even done the math yet, but I don't even have to. If I can get 225 on the floor at 2720 I can probably get 600 in here. That's a lot of seats."
Loyal says that he's not motivated by money — he'd been mostly retired from booking and promoting shows until this perfectly tailored opportunity fell into his lap. In keeping, he says he doesn't intend to try to compete with the other larger venues in the St. Louis area — but he won't be sitting on his hands, either.
"I'm not trying to hustle or battle with anyone. I'm not gonna try to outbid Delmar Hall on anything," Loyal explains. "But I
am
gonna put some fair offers in, and their offers are going to have to be more fair. And they're probably not gonna be happy about that."
Loyal's goal, he says, is simply to bring great music to an amazing but underutilized venue for the people of St. Louis to enjoy.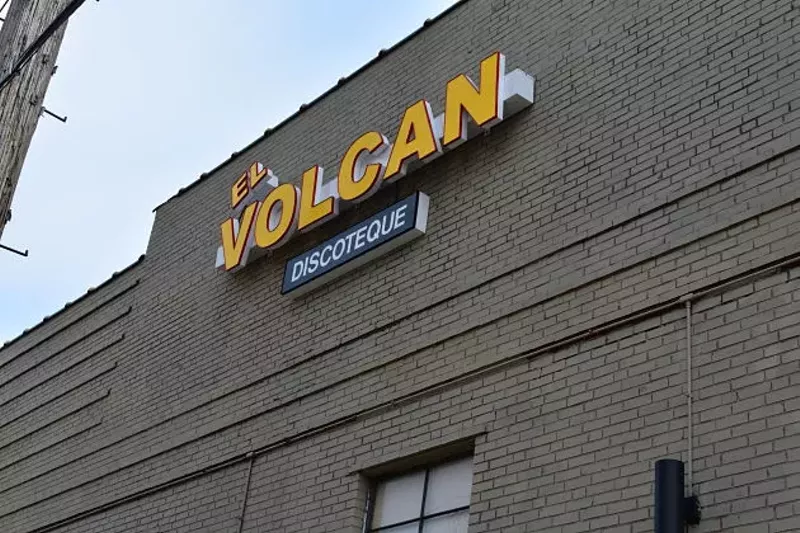 "I don't want to misrepresent myself or anyone else or the whole vibe of the place. It's not a takeover," he says. "We're coming into the place and we're gonna help curate the calendar. And we're gonna make good shows happen and bring good crowds and make good vibes and put lots of different music in here."
Though frankly, he's still a bit flabbergasted by the whole thing.
"It's 1,600 capacity, 3 a.m., on the Hill," he says. "That little phrase that I just said? I don't think St. Louis ever thought that would even be done."