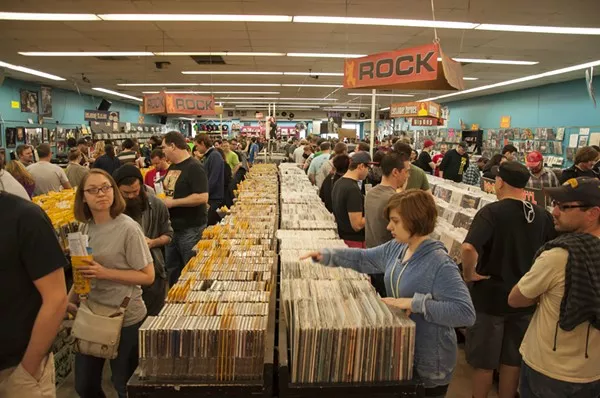 MICAH USHER
Record Store Day, scheduled for April 13, brings out the music lovers.
Record Store Day is now in its twelfth year, marking more than a decade of the hipster holiday that runs in parallel with the undead vinyl industry. Think of it as Christmas, or maybe Black Friday, for both collectors and casuals alike.
We've compiled a list of local Record Store Day events taking place this Saturday that feature live bands and DJs. In our roundup below, you'll find perks and specials specific to each spot, along with the low down on the live music they offer. Check
recordstoreday.com/SpecialReleases
for Record Store Day exclusives nationwide and prepare to camp out early Saturday morning for the more sought-after releases. Happy hunting!
Vintage Vinyl
6610 Delmar Boulevard, University City
Opens at 10 a.m.
Bands:
11 a.m. School of Rock
12:30 p.m. Desire Lines
1:30 p.m. Blue Lotus Records Showcase
3 p.m. Bounce House
4 p.m. Starwolf
5 p.m. Turntable Orchestra
DJs:
10 a.m. Andrew Yost
11 a.m. DJ Hal Greens
12 p.m. Lern Radio
1 p.m. Daniel Hill
2 p.m. Donny Fandango
3 p.m. John Henry
4 p.m. Jess Luther & Annie McCance
5 p.m. Gary Hairlson
Vintage Vinyl brings a full slate of live acts performing in front of the store as well as a roster of DJs (including yours truly) spinning records inside. Schlafly Beer and Echo Echo Wine will provide the refreshments, and those in line before the store's 10 a.m. opening will be treated to Strange Donuts and Kaldi's Coffee.
Euclid Records
19 North Gore Avenue, Webster Groves
Opens at 10 a.m.
12 p.m. Nikki Hill
12:30 p.m. Eldraco Price + FreeNation
1 p.m. Thor Axe
1:30 p.m. School Of Rock
2 p.m. The Red-Headed Strangers
2:30 p.m. Thames
3 p.m. Finn's Motel
3:30 p.m. Boreal Hills
4 p.m. Superfun Yeah Yeah Rocketship
4:30 p.m. Pono A.M.
5 p.m. Beth Bombara
5:30 p.m. The Potomac Accord
6 p.m. The Bottle Rockets
7 p.m. Summer Magic
Euclid Records' bash brings eight solid hours of live music, with performances by fourteen of the city's finest acts. Live music starts at noon, but doors open at 10 a.m. for those hoping to score exclusives. Sugarfire Smoke House and Hi-Pointe Drive-In will be on hand selling their wares, with beverages provided by 4 Hands, Urban Chestnut, Logboat and Echo Echo.
The Record Space
8716 Gravois Road, Affton
Opens at 10 a.m.
10:30 a.m. Lysergik Acid
11:30 a.m. Blāckwēll
12:30 p.m. Bastard Squad
1:30 p.m. Fight Back Mountain
2:30 p.m. NoPoint
3:30 p.m. BB Eye
4:30 p.m. Breakmouth Annie
5:30 p.m. The Haddonfields
6:30 p.m. The Uppers
7:30 p.m. Kill Their Past
8:15 p.m. Trauma Harness
9:15 p.m. Maximum Effort
With DJ sets inside by:
DJ Donald Gene Brazel
DJ Suzzy Scott
DJ SayWord
DJ Jon Coriell
Affton newcomer the Record Space celebrates its first Record Store Day with an appropriately punk-leaning batch of bands on the patio and DJs spinning records inside. Hot dogs and vegan food will be on hand courtesy of Devil Dogs Wienery and Wheely Good Food Dood, with plenty of beer and cider to wash it down thanks to Brick River Cider and Alpha Brewing Co. The festivities kick off at 10 a.m.
Planet Score Records
7421 Manchester Road, Maplewood
Opens at 10 a.m.
10 a.m. Jarrett Tindall
12 p.m. DJ SayWord
2 p.m. Don Tinsley
4 p.m. Cee Beond
6 p.m. DJ Dub Pen
Maplewood's Planet Score Records has dubbed its celebration a "Record Store Day Cookout," promising burgers, hot dogs "and other tasty treats," as well as bags of Red Hot Riplets via Old Vienna. Wash all that deliciousness down with drinks provided by Schlafly Beer and 2nd Shift Brewing while you thumb through records to the sounds of several local DJs. Doors open at 10 a.m.
Music Record Shop
3116 Locust Street
Opens at 7 a.m.
It's funny that the Record Store Day celebration that starts the earliest this year also happens to be the one that will have whiskey on hand, but hey, it's a party! In addition to Rebel Yell bourbon, Music Record Shop's shindig will feature beer from Urban Chestnut, coffee and donuts for the early birds, and pizza and chicken via U.R.B. and Byrd & Barrel. Point personality Donny Fandango and DJ Mark Lewis will spin records throughout. Doors open at 7 a.m.